Find Cheaper New York, NY Car Insurance Rates in 2023
Enter your New York Auto Insurance zip code below to view companies that have cheap auto insurance rates.
UPDATED: Jun 6, 2023
It's all about you. We want to help you make the right coverage choices.
Advertiser Disclosure: We strive to help you make confident car insurance decisions. Comparison shopping should be easy. We are not affiliated with any one car insurance provider and cannot guarantee quotes from any single provider.
Our insurance industry partnerships don't influence our content. Our opinions are our own. To compare quotes from many different companies please enter your ZIP code on this page to use the free quote tool. The more quotes you compare, the more chances to save.
Editorial Guidelines: We are a free online resource for anyone interested in learning more about auto insurance. Our goal is to be an objective, third-party resource for everything auto insurance related. We update our site regularly, and all content is reviewed by auto insurance experts.
Living in New York City has its advantages like access to world-class museums and art galleries, cultural experiences from all over the world, a plethora of career opportunities, and great public transportation. But downsides include heavy traffic, bitter cold winters, housing costs, and if you own a vehicle, high car insurance prices.
The average cost of car insurance in New York City is just under $2,600 a year, which ranks among the highest for large cities in the U.S. If you live in the Bronx, Brooklyn, or the southern part of Queens, your rates could be as much as 69% higher, with prices approaching $4,400 a year.
Annual premium for full coverage: $2,214
:
These rates assume a 40-year-old driver with a good driving record and full coverage with $500 deductibles. The chart below shows rates for other scenarios like if you qualify for policy discounts, low and high physical damage coverage deductibles, and high-risk and teen driver insurance rates.
Not everyone needs full coverage, and the illustration below shows the price range from a cheaper liability-only policy up to a much more expensive high-risk policy. Drivers who may need high-risk or 'non-standard' coverage include those who have received a DUI violation, been caught driving without insurance, or have been convicted of driving on a suspended license.
What Determines Car Insurance Rates in New York City?
As you can probably tell by the data above, rates can vary considerably based on the driver and risk being insured. The next section discusses how your location, the type of vehicle you drive, and other factors can impact the price of your policy.
Where You Live
Areas with lots of traffic congestion have higher insurance prices just due to the increased likelihood of collision and liability claims. New York City ranks first in population density in the U.S. with over 28,000 people per square mile.
Boroughs with high incidents of vehicle theft or vandalism tend to have the highest rates in the Big Apple. The image below shows grand larcenies of motor vehicles by police precinct, with darker areas having the highest rates of vehicle theft.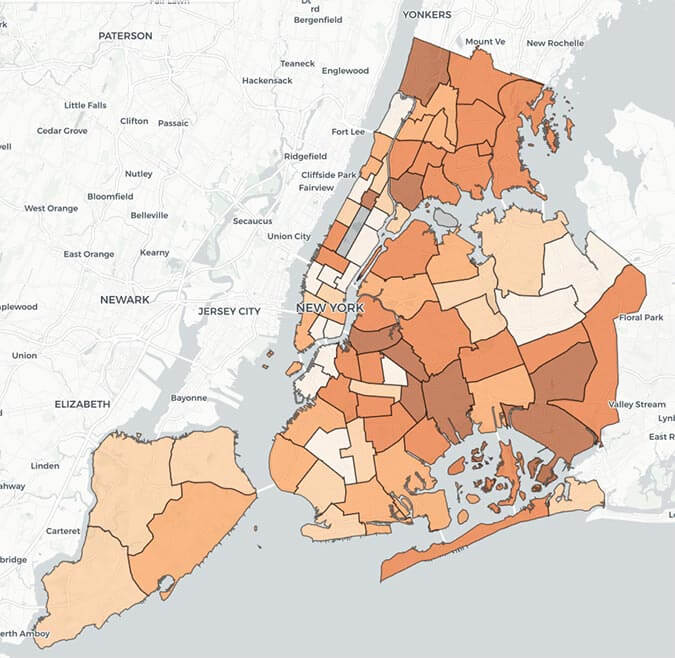 Map source NYC Crime Map showing Grand Larceny of Motor Vehicles by Precinct
If you live in a dark-shaded area in the map above, you probably pay a premium on your car insurance bill thanks to the higher likelihood that your car will be stolen.

Free Auto Insurance Comparison
Enter your zip code below to view companies that have cheap auto insurance rates.
Secured with SHA-256 Encryption
The Vehicle You Drive
Another big factor that determines the price of car insurance is the make and model of vehicle you drive. High performance, exotic, or high-priced vehicles cost more to insure due to the higher repair costs and generally higher liability insurance rates.
The table below shows insurance rates for some of the more popular vehicles sold in the state of New York.
New York City Auto Insurance Rates by Make and Model
Make and Model
Annual Premium
Monthly Premium
Chevrolet Silverado
$2,343
$195
Dodge Ram
$2,409
$201
Ford Escape
$1,851
$154
Ford Focus
$2,148
$179
Ford Fusion
$2,355
$196
Ford F-150
$2,088
$174
GMC Acadia
$2,046
$171
GMC Sierra
$2,307
$192
Honda Accord
$2,073
$173
Honda Civic
$2,427
$202
Honda CR-V
$1,800
$150
Honda Pilot
$2,109
$176
Hyundai Sonata
$2,253
$188
Kia Optima
$2,295
$191
Nissan Altima
$2,286
$191
Nissan Rogue
$2,232
$186
Toyota Camry
$2,265
$189
Toyota Corolla
$2,214
$185
Toyota Prius
$2,061
$172
Toyota RAV4
$2,094
$175
Get Rates for Your Vehicle Go
The rate data shows that vehicles with good safety ratings and less performance like the Honda CR-V and Ford Escape have cheaper insurance rates. Large trucks tend to have higher rates due to more frequent liability claims.
If you're into performance vehicles, you'll pay much higher rates than those shown in the table above. Cars like the Audi R8, Acura NSX, or Porsche 911 have rates that are nearly double those of the average vehicle, as shown in the chart below.
If you want sky high insurance rates, try insuring one of the top-performing vehicles above in the Bronx.
Your Driving Record
The most preventable cause of high car insurance prices is how you drive. Drivers with multiple violations pay much higher rates, as there is a direct correlation between poor driving habits and increased frequency of insurance claims.
Every company handles violations a little differently, with some allowing a minor violation without a rate increase. Other companies have no tolerance for even a minor infraction, and you'll see a price hike as soon as they discover the ticket on your motor vehicle report.
The chart below shows example rate hikes after one and two minor violations, and also the large price increase after a major violation like a DUI, driving on a suspended license, hit and run, or reckless driving.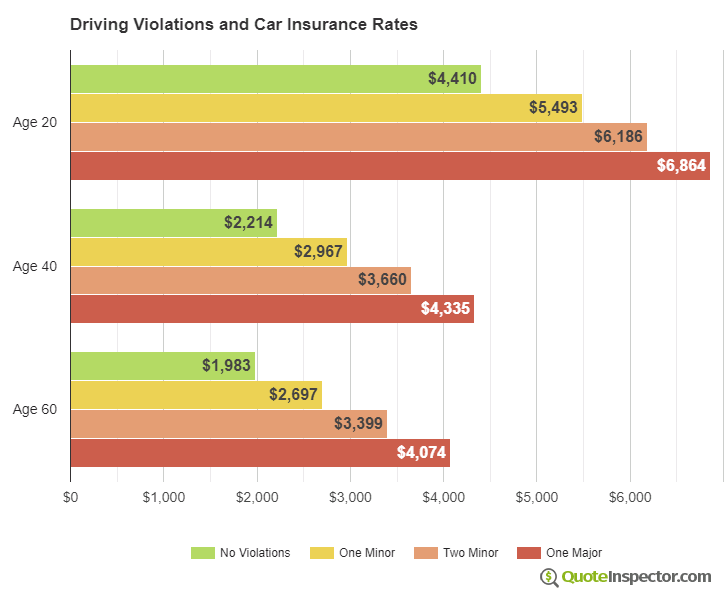 If your company offers discounts for being a safe driver, not only do you get stuck paying a surcharge for having a violation, you can also potentially lose a discount, which results in a double whammy on your car insurance bill.
Your Car Insurance Company
Speaking of companies, that happens to be another choice that directly impacts how much you pay. There are hundreds of insurance companies that can write auto insurance in the state of New York, and which one is the cheapest all depends on the factors we are discussing in this article.
There are just too many variables to tell you which car insurance company is cheapest in New York City, but we can show you the largest insurers in the state of New York.
New York Auto Insurers by Market Share and Price
Rank
Company
Market Share
Average Rate
1
Geico
30.81%
$1,888
2
Allstate
14.80%
$1,572
3
State Farm
13.03%
$1,943
4
Progressive
8.01%
$1,527
5
Liberty Mutual
6.26%
$2,046
6
Travelers
4.13%
$1,544
7
USAA
2.79%
$1,175
8
Nationwide
2.67%
$3,116
9
NYCM Insurance
2.37%
$1,855
10
Metropolitan
1.63%
$1,604
Get Your Rates Go
Source: National Association of Insurance Commissioners (NAIC) 2015 Market Share Report and The Zebra
Do the largest insurance companies offer the cheapest rates? Not necessarily. Is the cheapest company one of the largest companies? Probably not. Keep in mind that the rates above are averaged for the entire state of New York, and NYC has much higher rates than other areas of the state.
Since car insurance rates are so variable, and so many companies sell it, the only way to know which company is the cheapest is to compare prices based on your own situation.
Additional Factors
Where you live, the car you drive, your driving record, and your choice of insurance company are four of the main factors that affect the price you pay for insurance. Some of the other things that determine your policy premium are:
Deductible levels – High deductibles mean you pay more out-of-pocket for claims which reduces your premium. Conversely, lower deductibles save you money at claim time, but cost more in policy premium.
Liability limits – New Yorkers are required to have minimum liability limits of 25/50/10, but increasing these limits (which is a good idea in most cases) will also increase your premium.
Personal risk factors – These include things like your marital status, whether you own your home, your credit history, the ages of other drivers on the policy, etc.
Policy discounts – Companies offer discounts for being claim and/or accident-free, bundling your home and auto policies, having multiple cars on one policy, paying your policy in full, getting quotes online, and more. The more discounts you qualify for, the lower your rate will be.
New York Auto Insurance Resources
The following resources may be helpful in researching auto insurance in New York.
New York is a no-fault state which can be beneficial if you're injured in an accident, but it can also contribute to higher insurance rates. Learn about New York's no-fault insurance
To learn more about New York's minimum liability requirements or the NYAIP (assigned-risk plan), what to do if your policy was cancelled, or get general car insurance answers, visit the consumer FAQ.
If you have a consumer complaint about an insurance agent or company, you can file a consumer complaint or call (800) 342-3736.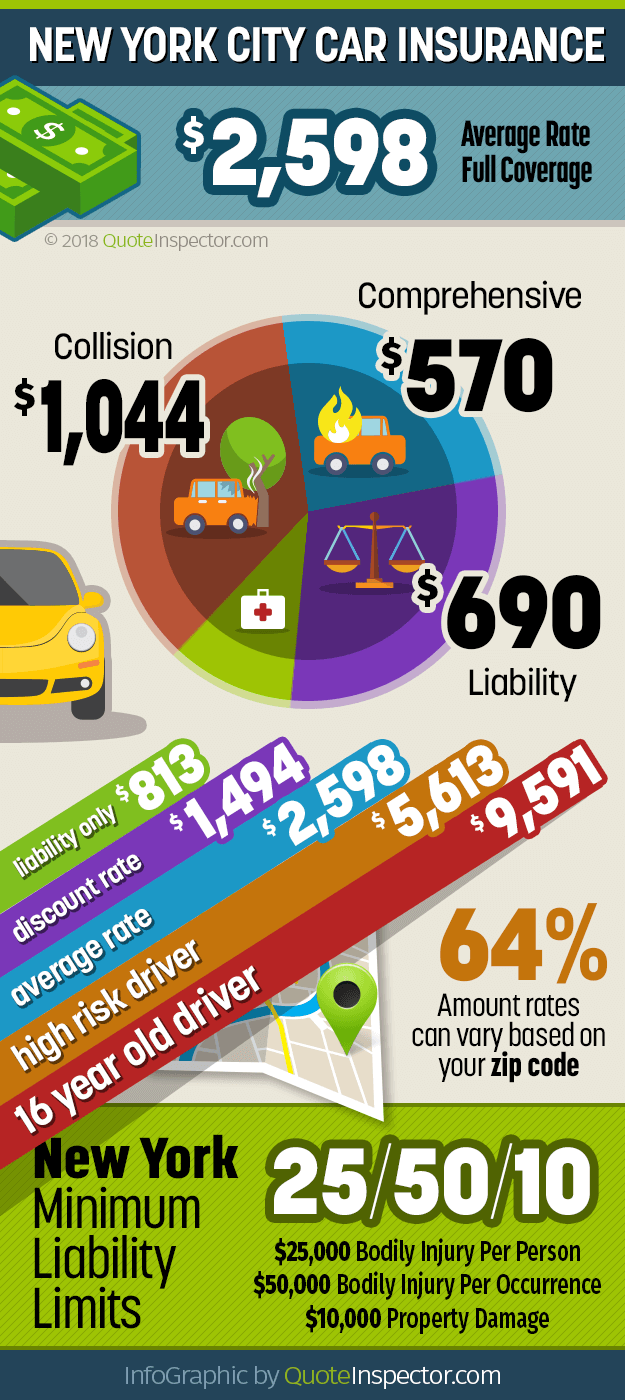 Tips for Reducing Car Insurance Rates in New York City
Chances are you're not going to move to a different neighborhood just to save on car insurance, but there are other steps you can take to help lower the cost of auto insurance in New York City.
Take a look at your policy and see if you're paying for coverages that are not needed. Do you really need towing reimbursement or that auto club membership?
If you have adequate savings, consider raising your comprehensive and collision deductibles. Higher deductibles save money in the long run, but you must have enough emergency funds on hand to pay them in the event of a claim.
If you're switching vehicles, consider buying a lower-performance, lower-cost vehicle that has excellent safety ratings. These types of vehicles tend to have the cheapest insurance rates.
Ask your company or agent if there are any discounts that you might be missing. Discounts for certain occupations or professional memberships are often not well publicized so it doesn't hurt to inquire.
Consider taking a defensive driving class as part of New York's Point and Insurance Reduction Program (PIRP). It can save you 10% on your liability and collision rates for three years and also help prevent a license suspension if you have 11 or more points on your record.
Lastly, and most importantly, shop your coverage around. Price quotes are always free and you may find a company that is much cheaper than your current one. We recommend comparing rates once a year, since companies change rates frequently.
Frequently Asked Questions
Why is car insurance typically more expensive in New York, NY?
Car insurance is generally more expensive in New York, NY due to several factors. These include high population density, heavy traffic, a higher frequency of accidents, and a greater risk of theft or vandalism. The cost of living and medical expenses in the state also contribute to higher insurance premiums.
Are there any discounts or programs available to help drivers save on car insurance in New York, NY?
Yes, there are various discounts and programs available to help drivers save on car insurance in New York, NY. These may include safe driver discounts, multi-policy discounts (when bundling home and auto insurance), discounts for completing defensive driving courses, good student discounts for young drivers, and discounts for installing safety devices in your vehicle. It's advisable to inquire about available discounts when obtaining quotes from insurance providers.
How can I find cheaper car insurance rates in New York, NY? A3:
To find cheaper car insurance rates in New York, NY, consider the following steps:
Shop around and compare quotes: Obtain quotes from multiple insurance companies to find the most competitive rates. Each insurer may have different pricing based on various factors.
Review and adjust your coverage: Evaluate your current coverage and consider adjusting your deductibles or coverage limits to find a balance between affordability and adequate protection.
Maintain a good driving record: Avoid traffic violations and accidents, as a clean driving record can lead to lower insurance premiums over time.
Take advantage of discounts: Inquire about available discounts and programs, such as safe driver discounts, multi-policy discounts, or discounts for completing defensive driving courses.
Consider usage-based insurance: Some insurers offer usage-based insurance programs where rates are determined based on your driving habits. If you have safe driving habits, this option may result in lower premiums.
Are there any specific factors unique to New York, NY that affect car insurance rates?
Yes, several factors unique to New York, NY can impact car insurance rates. These include the high number of uninsured drivers, the requirement for personal injury protection (PIP) coverage, and the no-fault insurance system. Insurance companies consider these factors when determining rates, which may contribute to higher premiums compared to other states.
Can maintaining a good credit score help lower car insurance rates in New York, NY?
Yes, maintaining a good credit score can potentially help lower car insurance rates in New York, NY. Insurance companies in many states, including New York, use credit scores as one of the factors in determining premiums. A higher credit score may indicate responsible financial behavior, which some insurers associate with a lower likelihood of filing claims.
How can an insurance agent assist in finding cheaper car insurance rates in New York, NY?
An insurance agent can be a valuable resource when searching for cheaper car insurance rates in New York, NY. They have extensive knowledge of the insurance market, can provide personalized guidance, and help you navigate through available options. An agent can help you find suitable coverage based on your specific needs and budget while ensuring you take advantage of any discounts or programs available to you.
Are there any specific requirements or regulations for car insurance in New York, NY?
Yes, New York state has specific requirements for car insurance. The state requires drivers to carry liability insurance coverage that meets or exceeds the minimum limits set by law. Additionally, drivers in New York must have personal injury protection (PIP) coverage, which provides benefits for medical expenses and lost wages regardless of who is at fault in an accident. It's important
Rates by Driver Age
New York City Insurance Rates by Driver Age

| Driver Age | Premium |
| --- | --- |
| 16 | $8,166 |
| 20 | $5,109 |
| 30 | $2,313 |
| 40 | $2,214 |
| 50 | $2,022 |
| 60 | $1,983 |
Full coverage, $500 deductibles
Rates by Deductible
Insurance Rates with Different Deductibles

| Deductible | Premium |
| --- | --- |
| $100 | $2,820 |
| $250 | $2,538 |
| $500 | $2,214 |
| $1,000 | $1,902 |
Full coverage, driver age 40
Rates by Liability Limit
Insurance Rates with Different Liability Limits

| Liability Limit | Premium |
| --- | --- |
| 30/60 | $2,214 |
| 50/100 | $2,332 |
| 100/300 | $2,479 |
| 250/500 | $2,861 |
| 100 CSL | $2,390 |
| 300 CSL | $2,714 |
| 500 CSL | $2,949 |
Full coverage, driver age 40
Rates for High Risk Drivers
Insurance Rates for High Risk Drivers

| Age | Premium |
| --- | --- |
| 16 | $11,664 |
| 20 | $8,115 |
| 30 | $4,896 |
| 40 | $4,782 |
| 50 | $4,557 |
| 60 | $4,518 |
Full coverage, $500 deductibles, two speeding tickets, and one at-fault accident
If a financial responsibility filing is required, the additional charge below may also apply.
Potential Rate Discounts
If you qualify for discounts, you may save the amounts shown below.
| Discount | Savings |
| --- | --- |
| Multi-policy | $118 |
| Multi-vehicle | $114 |
| Homeowner | $31 |
| 5-yr Accident Free | $165 |
| 5-yr Claim Free | $142 |
| Paid in Full/EFT | $103 |
| Advance Quote | $110 |
| Online Quote | $157 |
| Total Discounts | $940 |
Rate after discounts
$1,274
Discounts are estimated and may not be available from every company or in every state.
Compare Rates Now
Find companies with the cheapest rates in New York City