Find Cheaper Chicago, IL Car Insurance Rates in 2023
Enter your Illinois Auto Insurance zip code below to view companies that have cheap auto insurance rates.
UPDATED: Jun 6, 2023
It's all about you. We want to help you make the right coverage choices.
Advertiser Disclosure: We strive to help you make confident car insurance decisions. Comparison shopping should be easy. We are not affiliated with any one car insurance provider and cannot guarantee quotes from any single provider.
Our insurance industry partnerships don't influence our content. Our opinions are our own. To compare quotes from many different companies please enter your ZIP code on this page to use the free quote tool. The more quotes you compare, the more chances to save.
Editorial Guidelines: We are a free online resource for anyone interested in learning more about auto insurance. Our goal is to be an objective, third-party resource for everything auto insurance related. We update our site regularly, and all content is reviewed by auto insurance experts.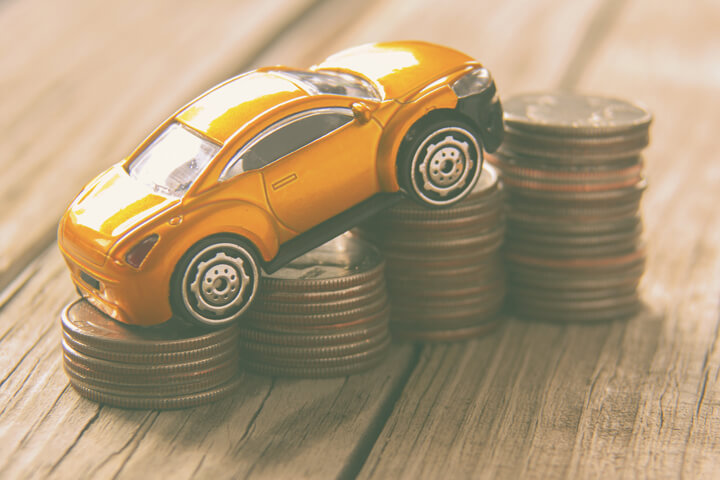 With over 2.7 million people in Chicago, and nearly 10 million in the metro area, residents of Chi-Town are accustomed to things costing a little more than the rest of the state. Unfortunately, one of the more expensive costs associated with living in the Windy City is higher car insurance rates.
Being the third largest city in the U.S. and having nearly 12,000 residents per square mile means lots of traffic congestion. And with more congestion comes more accidents, more incidents of vehicle theft, and increased vandalism. Throw in some icy weather off of Lake Michigan, and you have the perfect recipe for expensive auto insurance.
There are a lot of other factors than cause inflated car insurance rates, but before we discuss those and how you can reduce your monthly insurance bill, let's take a look at some average car insurance prices in Chicago.
Annual premium for full coverage: $1,883
:
These rates are figured by averaging the comprehensive, collision, and liability ratings for all vehicles, and assume a 40-year-old driver with no violations or at-fault accidents. Prices can change substantially if you're younger, have lower or higher deductibles, qualify for policy discounts, or have a few minor or a major traffic violation as shown in the chart below.
The cheapest discount rate shown in the chart is an estimated rate a driver might pay if they qualify for most discounts offered by their company. This includes things like owning a home, being claim-free and accident-free, having excellent credit, earning a multi-policy and multi-vehicle discount, and quoting their policy early and online.
The high deductible and low deductible rates shown on either side of the average rate demonstrate how your choice of physical damage deductible (comprehensive and collision coverage) can impact your rates. The average rates uses $500 deductibles, the high deductible rate uses $1,000 deductibles, and the low deductible rate uses $100 deductibles.
The most expensive car insurance rates go to high-risk and teenage drivers. High-risk or 'non-standard' coverage includes drivers who may have received a DUI, have a foreign driver's license, or were ticketed for driving without insurance or on a suspended license. The teen driver rate is for a 16-year-old driver with full coverage, which will trigger the highest rates since they are at the highest risk for having an accident.
Price Range for Car Insurance in Chicago
Not everyone needs full coverage, and a liability-only policy will be the cheapest coverage you can buy because you're not insuring your vehicle for damage from accidents or weather-related claims like hail or flooding.
The illustration below shows the average price range for a driver in Chicago, ranging from the cheapest liability-only policy up to a much higher priced high-risk policy.
Again, these prices make assumptions as far as the type of vehicle, location in Chicago, driver age and driving record, and policy coverages. To get a better idea of what car insurance will cost where you live, enter your zip code below.
Enter your Illinois zip code below to view companies that have cheap auto insurance rates.
What Determines Chicago Car Insurance Prices
Based on the data above, it should be pretty clear that Chicago isn't going to earn the distinction of having the cheapest rates in America. There are many, many factors that determine your final policy premium, but the ones listed below pack the biggest punch.
Where you live in Chicago
Neighborhoods like Near North Side, Lincoln Park, Lake View, Near South Side, and West Town are some of the best areas for affordable car insurance in Chicago primarily due to the low crime levels.
Other areas like Riverdale, Englewood, South Deering, Burnside, and Chicago Lawn have much higher crime rates, which translate into higher premiums.
The map below visualizes auto theft statistics, with the areas shown in red having the highest rates of motor vehicle theft.
Map from Chicago Police Department ClearMap Crime Summary for Motor Vehicle Theft
If you live in a red or orange area, there is a good change you are paying up to 20% more just due to the increased likelihood of having your car stolen or vandalized. Conversely, if you live in a white or cream-colored neighborhood on the map, you could be paying nearly $500 a year less than drivers in high-crime areas.
The Vehicle You Drive
As mentioned earlier, every vehicle has a different rating value for comprehensive, collision, and liability insurance. Higher priced vehicles generally cost more to repair, and definitely cost more to replace, so those models have higher comprehensive and collision insurance rates.
Insurance companies also factor in a vehicle's track record for liability claims. Those that have a higher frequency or severity of liability claims will have a higher cost for liability insurance.
The table below shows estimated rates for some of the more popular vehicles you'll see on the streets of Chicago.
Chicago Auto Insurance Rates for Popular Vehicles
Make and Model
Annual Premium
Monthly Premium
Chevrolet Silverado
$1,991
$166
Dodge Ram
$2,045
$170
Ford Escape
$1,570
$131
Ford Focus
$1,825
$152
Ford Fusion
$2,002
$167
Ford F-150
$1,775
$148
GMC Acadia
$1,739
$145
GMC Sierra
$1,958
$163
Honda Accord
$1,764
$147
Honda Civic
$2,063
$172
Honda CR-V
$1,530
$128
Honda Pilot
$1,793
$149
Hyundai Sonata
$1,912
$159
Kia Optima
$1,948
$162
Nissan Altima
$1,940
$162
Nissan Rogue
$1,894
$158
Toyota Camry
$1,922
$160
Toyota Corolla
$1,883
$157
Toyota Prius
$1,750
$146
Toyota RAV4
$1,782
$149
Get Rates for Your Vehicle Go
Your Driving Record
Your driving habits are the single most controllable factor that has the biggest impact on rates. If you like to drive fast and carelessly, chances are good that you're going to have a few points on your driving record. These points directly translate into higher rates, and if you have any major violations like a DUI, reckless driving, hit and run, wrecks that have resulted in accident injuries, or driving on a suspended license, you could have trouble even finding coverage in the standard market.
The chart below illustrates how having a couple of minor violations or a major violation can increase rates. Each insurance company handles violations differently, with some being more lenient than others for the first offense.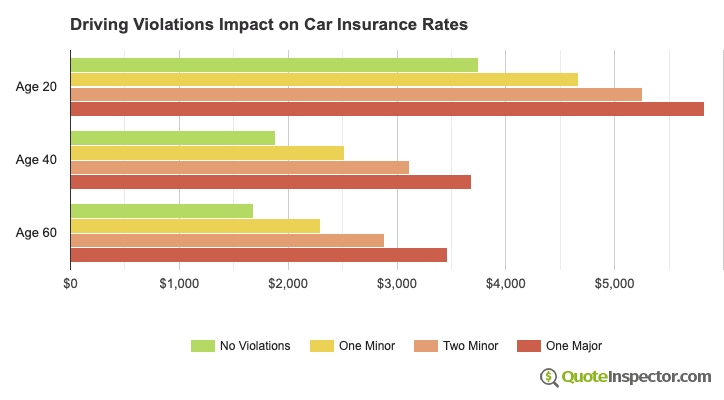 Your Car Insurance Company
Whether you choose Illinois-based Allstate or any other insurer, your choice of company is another factor that determines if your rates are high, low, or just right.
Since every company has their own formula for pricing car insurance, rates will be different with every company you quote. Profitability is a pretty big deal to insurance companies, and if they have a year where claim payments out exceed premiums paid in, their shareholders will not be happy. The result to you, the policyholder, is a rate increase on your next bill.
The great thing about car insurance is Chicago drivers have lots of options. If your rates are getting high, it doesn't cost anything to shop around and find a lower-cost policy. If you do find a cheaper company, it's easy to move your coverage. Most companies have online rate quotes and there are even services that allow you to compare many companies without having to visit any of their websites.
Just keep in mind when switching companies that you do not want a lapse in coverage so make the effective date of your new policy the same as the expiration date of your old policy.
The chart below shows the largest insurance companies in Illinois by market share and estimated average rate. Rates in Chicago will be higher than the Illinois average rates and don't rule out a company just because they have a high average rate. Your personal rating criteria may be significantly different than the average driver, which will produce a very different set of rates.
Auto Insurance Companies in Illinois by Market Share
Rank
Company
Market Share
Average Rate
1
State Farm
31.81%
$992
2
Allstate
11.92%
$1,728
3
Country Financial
6.83%
$1,601
4
Geico
5.86%
$1,096
5
Progressive
4.80%
$1,231
6
Farmers Insurance
4.72%
$1,158
7
American Family
4.19%
$1,364
8
Liberty Mutual
3.02%
$1,679
9
USAA
2.16%
$969
10
Metropolitan
1.59%
$1,232
Get Your Rates Go
Source: National Association of Insurance Commissioners (NAIC) 2015 Market Share Report and The Zebra
Monthly Car Insurance Cost by State
Tips for Making Car Insurance Fit Your Budget
There are a lot of things Chicago drivers can do to find car insurance that doesn't break their budget. Finding affordable coverage is everyone's goal, and making small changes to your policy or driving habits are the best place to start. Here are some tips that can help make cheaper car insurance a reality.
Being a safe driver is the one thing we can all control, so don't speed, obey traffic laws, and take advantage of good driver discounts
If you do receive a minor traffic violation, take a defensive driver training course to prevent the ticket from impacting your car insurance rates
Consider raising your physical damage deductibles (comprehensive and collision coverage) if you have enough savings set aside to pay a higher deductible if you have a claim
Talk to your company or agent and see if there are any discounts you may be eligible for but are not currently receiving
If you own your home or rent, bundle your homeowners or renters policy with your auto insurance policy to obtain a discount
If your vehicle is nearing 10 years old, consider removing physical damage coverage entirely
Make sure you're not paying for coverage that may not be needed like extra glass coverage, rental reimbursement, or roadside assitance
Most importantly, shop your policy around. Simply switching companies can often times save several hundreds of dollars a year, and it doesn't cost anything to get quotes
Frequently Asked Questions
How can I find cheaper car insurance in Chicago, IL?
Finding cheaper car insurance in Chicago, IL can be achieved through various methods. Here are some tips:
Compare quotes: Obtain multiple car insurance quotes from different insurance companies to compare prices and coverage options. Online insurance comparison tools can make this process easier.
Opt for a higher deductible: Choosing a higher deductible means you'll have to pay more out of pocket in the event of a claim, but it can lower your premium.
Take advantage of discounts: Insurance companies offer a range of discounts. Check if you qualify for any, such as safe driver discounts, multi-policy discounts, or discounts for safety features in your vehicle.
Maintain a good driving record: Having a clean driving record with no accidents or traffic violations can help lower your insurance premiums.
Bundle your policies: Consider bundling your car insurance with other insurance policies, such as homeowners or renters insurance, as this can often result in a discount.
Consider your coverage needs: Assess your coverage needs and make sure you're not paying for more coverage than necessary. For example, if you have an older car, you may not need comprehensive coverage.
Improve your credit score: In some states, including Illinois, insurance companies can consider your credit score when determining your premium. Maintaining a good credit score can help lower your rates.
Are there any specific factors that affect car insurance rates in Chicago, IL?
Yes, several factors can influence car insurance rates in Chicago, IL. Some of the significant factors include:
Age and driving experience: Young and inexperienced drivers typically pay higher premiums compared to older, more experienced drivers.
Vehicle type: The make, model, and year of your car can impact your insurance rates. Expensive or high-performance vehicles tend to have higher premiums.
Driving record: Your driving history, including accidents and traffic violations, can affect your insurance rates. A clean driving record often results in lower premiums.
Location: Insurance rates can vary based on your location within Chicago, IL. Factors such as population density, crime rates, and accident statistics in your area can influence rates.
Credit score: In Illinois, credit score can be considered when determining insurance rates. Maintaining a good credit score can help lower your premiums.
Coverage and deductibles: The type and level of coverage you choose, as well as the deductible amount, can impact your insurance rates. More extensive coverage and lower deductibles generally lead to higher premiums.
Are there any specific car insurance requirements in Chicago, IL?
Yes, there are specific car insurance requirements in Chicago, IL. Drivers in Illinois must carry liability insurance, which includes:
Bodily injury liability: A minimum coverage of $25,000 per person and $50,000 per accident for injuries caused to others in an accident you are at fault for.
Property damage liability: A minimum coverage of $20,000 for damage caused to another person's property in an accident you are at fault for.
Are there any local resources or organizations in Chicago, IL that can help me with car insurance information?
Yes, there are several resources and organizations in Chicago, IL that can provide assistance and information regarding car insurance:
Illinois Department of Insurance: The Illinois Department of Insurance is a valuable resource for insurance-related information, including car insurance. They can provide guidance on insurance regulations and consumer rights.
Independent insurance agents: Local independent insurance agents in Chicago can help you navigate the insurance market and find the best coverage options for your needs. They can provide personalized advice and assistance.
Consumer advocacy groups: There may be consumer advocacy groups or organizations in Chicago that focus on insurance-related matters. These groups can provide guidance, support, and resources for finding affordable car insurance.
Online forums and communities: Joining online forums or communities specific to Chicago, IL, can allow you to connect with fellow residents who may have insights and recommendations on finding cheaper car insurance in the area.
Rates by Driver Age
Chicago Insurance Rates by Driver Age

| Driver Age | Premium |
| --- | --- |
| 16 | $6,937 |
| 20 | $4,342 |
| 30 | $1,966 |
| 40 | $1,883 |
| 50 | $1,717 |
| 60 | $1,685 |
Full coverage, $500 deductibles
Rates by Deductible
Insurance Rates with Different Deductibles

| Deductible | Premium |
| --- | --- |
| $100 | $2,394 |
| $250 | $2,156 |
| $500 | $1,883 |
| $1,000 | $1,616 |
Full coverage, driver age 40
Rates by Liability Limit
Insurance Rates with Different Liability Limits

| Liability Limit | Premium |
| --- | --- |
| 30/60 | $1,883 |
| 50/100 | $1,983 |
| 100/300 | $2,108 |
| 250/500 | $2,433 |
| 100 CSL | $2,033 |
| 300 CSL | $2,308 |
| 500 CSL | $2,508 |
Full coverage, driver age 40
Rates for High Risk Drivers
Insurance Rates for High Risk Drivers

| Age | Premium |
| --- | --- |
| 16 | $9,911 |
| 20 | $6,894 |
| 30 | $4,158 |
| 40 | $4,061 |
| 50 | $3,870 |
| 60 | $3,838 |
Full coverage, $500 deductibles, two speeding tickets, and one at-fault accident
If a financial responsibility filing is required, the additional charge below may also apply.
Potential Rate Discounts
If you qualify for discounts, you may save the amounts shown below.
| Discount | Savings |
| --- | --- |
| Multi-policy | $100 |
| Multi-vehicle | $97 |
| Homeowner | $27 |
| 5-yr Accident Free | $141 |
| 5-yr Claim Free | $121 |
| Paid in Full/EFT | $88 |
| Advance Quote | $94 |
| Online Quote | $134 |
| Total Discounts | $802 |
Rate after discounts
$1,081
Discounts are estimated and may not be available from every company or in every state.
Compare Rates Now
Find companies with the cheapest rates in Chicago