Should I buy full coverage or liability-only car insurance?
Enter your Car Insurance Coverage FAQs zip code below to view companies that have cheap auto insurance rates.
UPDATED: Jul 8, 2023
It's all about you. We want to help you make the right coverage choices.
Advertiser Disclosure: We strive to help you make confident car insurance decisions. Comparison shopping should be easy. We are not affiliated with any one car insurance provider and cannot guarantee quotes from any single provider.
Our insurance industry partnerships don't influence our content. Our opinions are our own. To compare quotes from many different companies please enter your ZIP code on this page to use the free quote tool. The more quotes you compare, the more chances to save.
Editorial Guidelines: We are a free online resource for anyone interested in learning more about auto insurance. Our goal is to be an objective, third-party resource for everything auto insurance related. We update our site regularly, and all content is reviewed by auto insurance experts.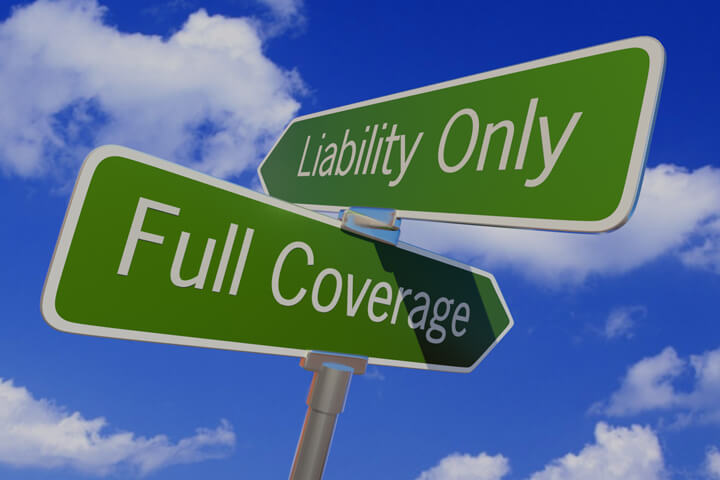 Most drivers come to a point where they begin to wonder if buying full coverage on their car insurance makes sense. At some point, the expense of paying for comprehensive and collision coverage starts to outweigh the benefit if you never have claims and have an older vehicle.
Let's talk about the pros and cons of dropping full coverage and see if it's the best decision for you.
The Benefits of Having Full Coverage
Despite the cost, there is some peace of mind knowing that if your vehicle is involved in an accident, gets caught in a hail storm, or you hit a deer, coverage is available to pay for the repairs.
As you probably know, the term "full coverage" consists of the optional collision and comprehensive coverages on an auto insurance policy. Liability insurance is not considered full coverage, as it only pays for damages you incur to other people, their property, or their vehicle. It does not pay for damage to your vehicle.
Collision coverage pays for claims related to the upset of your vehicle, or impact with another vehicle or object.
Comprehensive coverage pays for damages resulting from any of the following:
Missiles or falling objects
Fire
Theft or larceny
Explosion or earthquake
Windstorm
Hail, water or flood
Malicious mischief or vandalism
Riot or civil commotion
Contact with bird or animal
Breakage of glass
Between the two coverages, there are a lot of claims that will be covered by your policy. Dropping full coverage not only removes those protections, but there are some additional things to consider before making the switch.
If you happen to still owe money on your loan, dropping full coverage may not be an option. Your loan agreement most likely states that you agree to maintain full coverage until the loan has been paid off. This protects the lienholder's interest in your vehicle.
If you do not have full coverage on your current policy, you do not have full coverage if you buy a new vehicle. So if you drive off the lot and forgot to tell your agent to specifically insure your new car with comprensive and collision coverage, you will not have coverage for repairs if you total your brand new vehicle a block from the dealer. This also applied to "non-owned" vehicles that you may borrow from a friend.
When to Drop Comprehensive and Collision Coverage
There comes a point where the value of your vehicle does not justify the high expense of insuring for all those potential risks. A vehicle that costed $30,000 new 10 years ago may now only have a fair market value of $6,000 today. And if full coverage is costing you $500 to $700 a year, it just gets harder to pay the premium at every renewal.
There really is no set rule on when it's best to drop full coverage. It comes down to more of a guideline, plus your ability to financially absorb a total loss of your vehicle or significant damages.
The guideline for removing comprehensive and collision coverage generally is when the yearly cost of the two coverages is greater than 10% of your vehicle's market value, it might be time to consider removing them. This is generally when your vehicle gets to be 8 to 10 years old.

Free Auto Insurance Comparison
Enter your zip code below to view companies that have cheap auto insurance rates.
Secured with SHA-256 Encryption
Let's look at an example.
You have a 2008 Toyota Camry SE with 100,000 miles, which has an NADA trade in value of $5,450 and a NADA retail value of $7,675. The trade in value is what you can expect to get if you trade the vehicle in to a dealer, and the retail value is what you might find the same car priced at on the dealer lot.
If your Camry is totalled, the settlement you receive from your insurance company will be somewhere between those two values. If it is in exceptional shape or has very low miles for the model year, you may be able to argue for a higher settlement.
Comprehensive and collision coverage is costing you $625 a year, which is just over $52 a month. Using the 10% guideline, if the value of the Camry drops below $6,250 ($625 divided by 10%), it might be time to consider dropping coverage.
Since the $6,250 value is right between between the trade in and retail value, that 2008 model is probably about due to have full coverage removed from the policy.
One thing to keep in mind is if you do not have the financial reserves to purchase a different vehicle if your current one is totalled, it's probably best to keep full coverage.
Cost Savings When Insuring for Liability Only
Buying only liability insurance will result in significant savings on car insurance. The chart below compares rates for different age groups when buying full coverage versus liability only.
As an average, full coverage costs an extra $1,366 per year more than insuring for liability only. The 20-year-old age group skews the average higher, because car insurance is quite expensive for younger drivers. But if we look at the rates for the 40-year-old group, full coverage costs $728 per year more than buying just liability insurance.
If we apply the 10% guideline from earlier, then if the vehicle's value is less than about $7,200, then it may be advantageous to drop full coverage.
When deciding whether full coverage is right for you, keep these things in mind:
You may be required to have full coverage if you still have a loan
You do not automatically have full coverage on a new vehicle if you do not have it on your policy
If your vehicle's value is less than 10% of the annual cost of full coverage, it may be time to consider dropping it
Buying only liability coverage on older vehicles is a good way to save on car insurance
Use our FREE quote tool to compare insurance rates now!
Case Studies: Full Coverage vs. Liability-Only Car Insurance
Case Study 1: John's Accident
John, an experienced driver, had an at-fault accident that resulted in significant damage to his vehicle. With full coverage, his insurance company covered the repair costs, saving him thousands of dollars out of pocket.
Case Study 2: Sarah's Theft
Sarah's car was stolen from her driveway overnight. Luckily, she had comprehensive coverage, which provided reimbursement for the value of her vehicle. Without full coverage, Sarah would have faced a substantial financial loss.
Case Study 3: Mark's Savings
Mark, the owner of an older vehicle, decided to switch to liability-only coverage to save on insurance costs. Unfortunately, he later experienced hail damage during a storm, resulting in costly repairs that he had to pay for out of pocket since he lacked comprehensive coverage.
Frequently Asked Questions
Should I buy full coverage or liability-only car insurance?
The decision depends on factors like your vehicle's value, financial situation, and risk tolerance. Full coverage provides comprehensive protection, including liability, collision, and comprehensive coverage. Liability-only insurance covers damages you cause to others. Consider your needs and circumstances when choosing coverage.
What are the benefits of full coverage car insurance?
Full coverage provides peace of mind by covering accidents, theft, vandalism, and more. It pays for repairs or the value of your vehicle if it's a total loss. This is especially valuable for newer or higher-value vehicles.
When should I drop comprehensive and collision coverage?
Consider dropping these coverages if their cost exceeds 10% of your vehicle's value. However, the decision depends on factors like your financial ability to handle a loss and your risk tolerance.
How can I save money with liability-only insurance?
Liability-only insurance is cheaper than full coverage. By dropping additional coverage, you can lower your premiums. However, consider the financial implications if your vehicle is damaged or totaled without comprehensive and collision coverage.
What factors should I consider when choosing coverage?
Consider your vehicle's value, budget, driving habits, and risk tolerance. Older vehicles with low values may warrant liability-only coverage, while newer or higher-value vehicles may benefit from full coverage.
Frequently Asked Questions
Popular Rate Quotes
Compare Rates and Save
Find companies with the cheapest rates in your area