Find Cheaper Gap Car Insurance Rates in 2023
Enter your Types of Car Insurance Coverage zip code below to view companies that have cheap auto insurance rates.
UPDATED: Jun 8, 2023
It's all about you. We want to help you make the right coverage choices.
Advertiser Disclosure: We strive to help you make confident car insurance decisions. Comparison shopping should be easy. We are not affiliated with any one car insurance provider and cannot guarantee quotes from any single provider.
Our insurance industry partnerships don't influence our content. Our opinions are our own. To compare quotes from many different companies please enter your ZIP code on this page to use the free quote tool. The more quotes you compare, the more chances to save.
Editorial Guidelines: We are a free online resource for anyone interested in learning more about auto insurance. Our goal is to be an objective, third-party resource for everything auto insurance related. We update our site regularly, and all content is reviewed by auto insurance experts.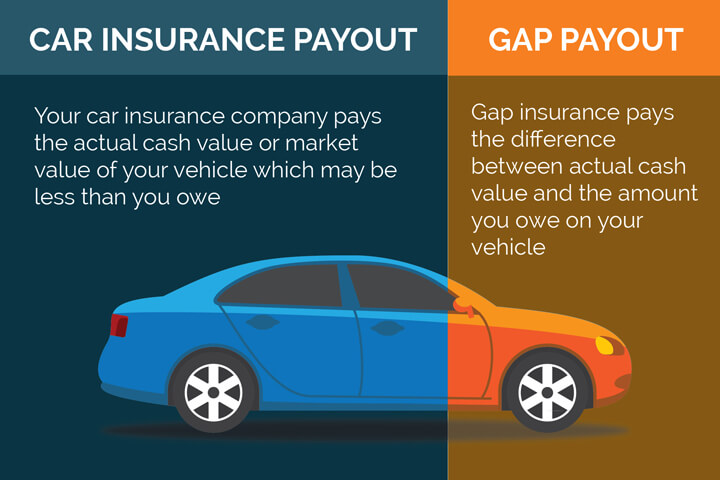 Gap insurance, otherwise known as Guaranteed Auto Protection insurance, is protection from major insurance companies for when the actual cash value of your car auto loan balance is less than what you owe. This situation may arise when buying a new or nearly new car, financing a used car without a down payment, or purchasing an vehicle of considerable value.
How Does Gap Insurance Work?
Let's say you purchase a new vehicle and finance $38,000 on your lease agreements with very little down payment. As soon as you drive off the lot, your vehicle is no longer new and the value drops considerably. If you were in an accident or your car was stolen, your auto insurers may only offer you $32,000 to replace the vehicle because of the depreciation rate.
Since you still owe the bank $38,000, there is a "gap" in loan payments of $6,000 between what your car is worth and what you still owe. That's where gap policies kick in and pay the difference so that you can get a similar replacement vehicle. You do need to insure your vehicle with a standard auto insurance policy that provides both a comprehensive and collision insurance policy in order to qualify for gap coverage, though most major insurance carriers are gap insurance providers.
When is Gap Insurance a Good Idea?
Everyone has a different tolerance to risk, and gap insurance is completely optional. Here are a few circumstances where purchasing gap coverage may be in your best interest.
You do not have sufficient financial resources to cover the difference between what you owe and what your vehicle is worth
You are purchasing or leasing a vehicle with little or no down payment
Your current auto insurance company does not offer 'new car replacement' coverage
If any of these situations apply to you, then you may want to consider purchasing gap insurance with your next vehicle. You should also consider getting gap insurance if you live in an area where bad collisions are common, such as in the states with the worst rural roads.
But keep reading, as there is a right way and a wrong way to buy it.

Free Auto Insurance Comparison
Enter your zip code below to view companies that have cheap auto insurance rates.
Secured with SHA-256 Encryption
How should you buy gap insurance?
If you are buying a car through a dealership, there is a good chance that they will attempt to sell you gap insurance as part of your vehicle financing. It's always tempting to just roll the price of gap coverage into your monthly payment and not have to pay upfront, but you will end up paying much more than you need to for coverage.
Car dealerships are paid a hefty commission for selling any kind of additional insurance or warranties, and you are better off buying coverage from your insurance agent. You may also be able to buy gap insurance through your lender, but again, it will be much higher priced than if you buy it from your local insurance agency.
Before purchasing a vehicle, talk to your insurance agent about gap coverage. There is a good chance you can obtain coverage through your current car insurance company for as little as $20 or $30 a year.
Which Insurance Companies Sell Gap Insurance?
Gap insurance is offered by many major car insurance companies, and here is a list of companies that are verified to offer it.
Nationwide
Esurance
Progressive – called 'Loan/Lease Payoff' coverage
American Family
State Farm – called 'Payoff Protector' and vehicle must be financed through State Farm Bank
Allstate
Travelers – vehicle must be purchased from a dealership, not a private party
Auto-Owners – vehicle must be purchased new
Erie Insurance
MetLife
Safeco
21st Century in select states
With the companies listed above, gap insurance is offered as an add-on to an existing policy. So you cannot just purchase stand-alone gap insurance from them. Each one has different conditions attached to purchasing the coverage, so it's a good idea to find out exactly what is and is not covered before purchasing.
There are some companies that offer stand-alone gap insurance policies, but the prices are much higher than if you purchase coverage from your existing auto insurance company. But if your current company does not offer it, then they may be your only option. It's worth a Google to compare prices and see if it makes sense for you.
Frequently Asked Questions
What is Gap car insurance?
Gap car insurance is a type of auto insurance that covers the "gap" between the amount you owe on your car loan or lease and the actual cash value of your vehicle in the event of a total loss. It helps protect you from having to pay out of pocket for the remaining loan balance if your car is stolen or severely damaged.
Why should I look for cheaper Gap car insurance?
Finding cheaper Gap car insurance can help you save money on your overall auto insurance costs. By comparing different insurance providers and policies, you may be able to find a more affordable option while still receiving adequate coverage for your vehicle.
How can I find cheaper Gap car insurance?
Here are some tips to find cheaper Gap car insurance:
a) Shop around: Obtain quotes from multiple insurance companies to compare prices and coverage options. This allows you to find the best deal that suits your needs.
f) Consider usage-based insurance: Some insurance providers offer usage-based insurance programs where your premiums are based on your driving habits. If you are a safe driver, this could potentially lead to lower rates.
b) Increase your deductible: Choosing a higher deductible can lower your insurance premiums. However, ensure that you can comfortably afford the deductible amount in case of a claim.
c) Maintain a good credit score: Insurance companies often consider your credit score when determining premiums. A good credit score can help you qualify for lower rates.
d) Bundle policies: If you have other insurance policies, such as home or renters insurance, consider bundling them with your Gap car insurance. Many insurers offer discounts for bundling multiple policies.
e) Drive a car with a lower value: The cost of Gap car insurance is typically based on the value of your vehicle. Opting for a car with a lower value may result in lower insurance premiums.
Is it essential to have Gap car insurance?
Gap car insurance is not legally required, but it can be beneficial in certain situations. If you have a car loan or lease, Gap insurance can protect you from being financially responsible for the remaining loan balance if your vehicle is totaled. However, if you own your car outright or the remaining loan balance is negligible, Gap insurance may not be necessary.
Can I purchase Gap car insurance from any insurance company?
Gap car insurance is typically offered by auto insurance companies and some lenders. It's recommended to check with your current auto insurance provider to see if they offer Gap insurance. Additionally, you can explore other insurance companies to compare coverage options and prices.
Frequently Asked Questions
Popular Rate Quotes
Compare Rates and Save
Find companies with the cheapest rates in your area