Find Cheaper Comprehensive Car Insurance Rates in 2023
Enter your Car Insurance Coverage FAQs zip code below to view companies that have cheap auto insurance rates.
UPDATED: Jun 6, 2023
It's all about you. We want to help you make the right coverage choices.
Advertiser Disclosure: We strive to help you make confident car insurance decisions. Comparison shopping should be easy. We are not affiliated with any one car insurance provider and cannot guarantee quotes from any single provider.
Our insurance industry partnerships don't influence our content. Our opinions are our own. To compare quotes from many different companies please enter your ZIP code on this page to use the free quote tool. The more quotes you compare, the more chances to save.
Editorial Guidelines: We are a free online resource for anyone interested in learning more about auto insurance. Our goal is to be an objective, third-party resource for everything auto insurance related. We update our site regularly, and all content is reviewed by auto insurance experts.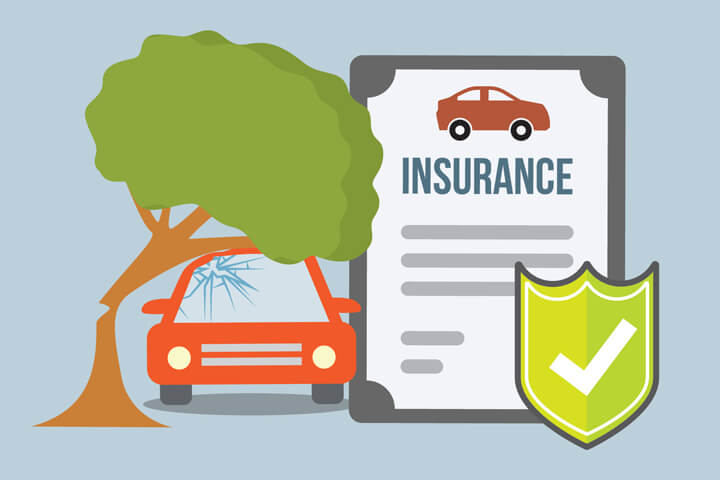 Comprehensive coverage, or also known as "other than collision coverage", is one of the types of coverage for physical damage that you can optionally buy on your car insurance policy. It pays for damage to your vehicle for specific claims that are not covered by an accident that is generally covered with collision coverage.
Since comprehensive auto insurance coverage covers damages not covered by collision insurance, we first have to define what a collision is. A collision is defined as upset of your vehicle or impact with another vehicle or object.
Comprehensive car insurance covers things that are not considered to be a collision. Those items are:
Missiles or falling objects
Fire
Theft or larceny
Natural disaster
Explosion or earthquake
Windstorm
Hail, water or flood
Malicious mischief or vandalism
Riot or civil commotion
Contact with bird or animal
Breakage of glass
Claims that are caused by hitting a bird or animal are the one exception to the collision definition, as those are covered by comprehensive coverage.
What happens during comprehensive claims?
Let's take a look at some example claim scenarios and how your car insurance policy will respond.
Scenario 1: Your car was broken into and your radio was stolen
Chances are your vehicle sustained damage to a window or door lock, as well as the theft of the radio. Comprehensive coverage will pay for the repairs to your car, as well as replace the radio.
Scenario 2: Your car was broken into and your laptop was stolen
This is similar to the first scenario, but the coverage is different. Comprehensive will pay for damage to your car from the break in, but your laptop will not be covered. The reason for this is due to the exclusions of a personal auto policy.
Personal items like cell phones, computers, and purses are specifically excluded from coverage. If you have a homeowners or renters policy, you most likely have coverage for off-premise personal items, but any loss is subject to the policy deductible, just like with comprehensive coverage.
Scenario 3: You hit a deer causing you to veer off the road and destroy a fence
Since comprehensive covers impact with an animal, it will pay for the repairs to your car. The damage to the fence will be covered under the liability coverages on your policy, specifically the property damage liability.

Free Auto Insurance Comparison
Enter your zip code below to view companies that have cheap auto insurance rates.
Secured with SHA-256 Encryption
Scenario 4: Your car's coolant system froze in the winter and cracked your engine block
This type of loss is excluded from coverage due to an exclusion for freezing. There is an expectation that you will take the necessary precautions (like adding antifreeze) to prevent this type of loss.
Scenario 5: You thought the 100,000 mile warranty meant you didn't have to change the engine oil until then and you blew your engine (this really happened)
Comprehensive will not cover losses due to mechanical or electrical breadown or failure.
Scenario 6: A windstorm broke a branch out of a tree and it fell on your car
This claim would be covered by comprehensive coverage. But if it was your neighbor's tree, and you can prove the branch was previously broken and needed removed, their homeowner's liability insurance may have to pay.
Scenario 7: Your car was burned in a wildfire or submerged in flood waters
These claims are definitely covered under comprehensive insurance.
Scenario 8: A passing dump truck dropped rocks that shattered your windshield
This is covered under the breakage of glass provision in the comprehensive coverage.
Scenario 9: You were drag racing and flipped your car
There is a specific exclusion when you use your car to practice or participate in an organized racing contest. This claim will be denied under your comprehensive coverage.
Scenario 10: You had an argument with your significant other and smashed your windshield with a sledge hammer
Breakage of glass is covered, but not if the damage was intentional. You'll have to pay to replace the windshield out of your own pocket.
How much does a comprehensive policy coverage pay?
There are various limits of liability included in an auto insurance policy that put a cap on the amount that you will receive. They vary by company, but the standard ISO policy form limits the payments to:
Actual cash value of the stolen or damaged property
The amount necessary to repair or replace with property of like kind and quality
$1,500 for any borrowed trailer
$1,000 for a permanently installed radio
Audiophiles who spend thousands of dollars on custom stereo equipment will want to have additional coverage added to their policy. Also, if coverage is provided elsewhere, the company will only pay their share of the loss.
How much does comprehensive cost?
Adding comprehensive coverage to your policy will increase the cost around 15-20%. According to the Insurance Information Institute, the average cost of comprehensive coverage is about $143 a year, with the average full coverage policy costing $838.
The cost of comprehensive varies by state, however, with South Dakota having the highest comprehensive rates and Oregon having the lowest.
Your choice of deductible has a big impact on how high your rate is. Choosing a lower deductible means you have to pay less if you have insurance claims, but you will pay higher rates for that privilege. Higher deductibles mean you are willing to shoulder more of the upfront cost of a claim, so you will be rewarded with lower comprehensive rates.
What are comprehensive coverage considerations?
When buying comprehensive coverage, you select a deductible that you must pay before the insurance company settles a claim. This amount varies, but common deductibles are $250, $500, or even up to $1,000. This amount comes out of your pocket, so it's important to have adequate savings on hand in the event of a claim.
Some people assume that comprehensive covers everything that collision does not, but that is not true. Due to policy exclusions, there are many things that are not covered, and we covered some of those in the prior claim scenarios.
As vehicles depreciate, there comes a point where insuring for physical damage does not make financial sense. A vehicle that is 10 years old or older has probably decreased in value to the point where comprehensive coverage is no longer justified.
There is a loose guideline that if the annual cost of physical damage coverage (comprehensive and collsion combined) exceeds 10% of the fair market value of the vehicle, then it might be a good time to consider removing those coverages.
The decision to remove coverage depends on your situation, and if you do not have the financial resources to purchase a replacement vehicle, you might want to keep coverage in place.
It's better to pay a little each month and know you have coverage than to drop coverage and have the unexpected happen. Use our FREE quote tool to compare now!
Frequently Asked Questions
What is comprehensive car insurance?
Comprehensive car insurance is a type of auto insurance coverage that protects against damages to your vehicle that are not caused by a collision. It typically covers incidents such as theft, vandalism, fire, natural disasters, and accidents involving animals.
How can I find cheaper comprehensive car insurance?
Here are some tips to help you find cheaper comprehensive car insurance:
Shop around: Obtain quotes from multiple insurance providers to compare prices and coverage options.
Increase deductibles: Choosing a higher deductible can lower your premium, but make sure you can afford to pay the deductible if you need to make a claim.
Bundle policies: Consider bundling your car insurance with other policies, such as homeowners or renters insurance, as it can often lead to discounts.
Maintain a good credit score: Many insurance companies use credit scores to determine premiums, so improving your credit can help lower your insurance costs.
Drive safely: Maintaining a clean driving record and avoiding accidents and traffic violations can make you eligible for lower insurance rates.
Consider usage-based insurance: Some insurers offer usage-based insurance programs where your premium is based on your driving habits. If you're a safe driver, this can lead to potential savings.
Evaluate your coverage: Review your coverage limits and deductibles to ensure they meet your needs. Removing unnecessary coverage options can help reduce costs.
Are there any discounts available for comprehensive car insurance?
Yes, many insurance companies offer discounts on comprehensive car insurance. Some common discounts include:
Multi-policy discount: Bundling multiple insurance policies with the same provider.
Good driver discount: If you have a clean driving record without any accidents or violations.
Anti-theft device discount: Installing anti-theft devices in your vehicle.
Safety feature discount: Having safety features such as anti-lock brakes, airbags, or electronic stability control.
Low mileage discount: If you drive fewer miles annually than the average driver.
Good student discount: For young drivers who maintain good grades in school.
Loyalty discount: Reward for staying with the same insurance company for an extended period.
Can I negotiate the price of comprehensive car insurance?
While you can't negotiate the base rates set by insurance companies, you can work with an insurance agent or broker to find discounts and coverage options that suit your needs. Shopping around and comparing quotes from different insurers can also help you find the most affordable option.
Is it better to choose a higher deductible for comprehensive car insurance?
Choosing a higher deductible can lower your premium, which may make sense if you have a good driving record and can afford to pay the deductible in the event of a claim. However, it's important to consider your financial situation and ability to pay the deductible before opting for a higher amount.
Frequently Asked Questions
Popular Rate Quotes
Compare Rates and Save
Find companies with the cheapest rates in your area