San Diego Car Insurance Rates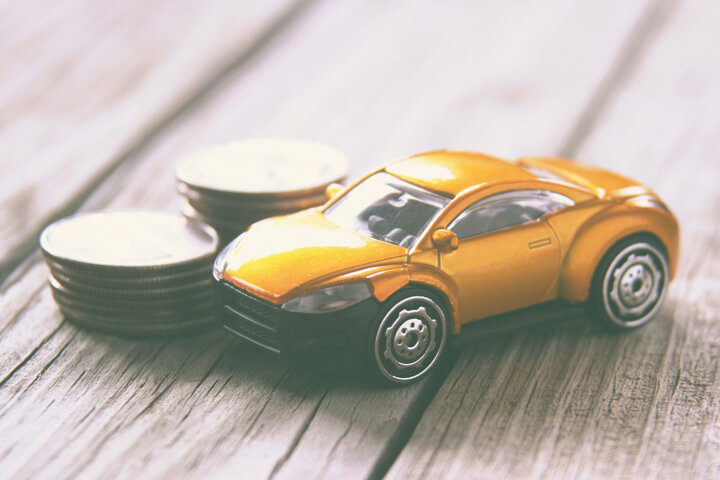 San Diego drivers can expect average car insurance prices to be $1,614 a year, or about $134 a month for full coverage. Policy discounts could get the rate as low as $927, and liability-only rates are estimated at $503 a year. State Farm, Farmers, and Allstate insure over 35% of the vehicles in San Diego, and USAA has the cheapest rates if drivers have a military affiliation.
The figure below shows the average rate and prices for individual policy coverage types.
Annual premium for full coverage: $1,614
Rate estimates by individual coverage type:
Rates are estimated based on a 40-year-old driver with a clean driving record and rated on an average passenger sedan like a Honda Accord, Toyota Camry, or Ford Focus.
Price Range by Policy Type
A policy with only liability insurance will be the most affordable, but it does not provide protection for damage to your vehicle from perils like theft, fire, or collision. California requires drivers to buy minimum liability insurance limits of 15/30/5, which means $15,000 of bodily injury coverage per person, $30,000 of bodily injury coverage per occurrence, and $5,000 of property damage insurance. These are not high limits and can quickly be exhausted even in a minor accident, so consider buying higher limits for additional protection.
Drivers who have multiple violations on their driving record or have an adverse claim history may be forced to buy coverage from the non-standard or high-risk market. Rates for these policies are considerably higher than the average full coverage policy as shown below.
Full Coverage Policy Price Comparisons
The chart below shows how rates are affected by different scenarios. The cheapest discount price is what drivers can expect to pay if they are a preferred risk and qualify for the majority of discounts offered by their company.
The high deductible, average rate, and low deductible prices show how choosing different physical damage deductibles (comprehensive and collision) affect policy prices. High deductibles save drivers money because in the event of a claim, the policyholder pays more of the repair cost. With low deductibles, the insurance company pays more, which equates to high prices.
In this example, drivers could see savings of $669 a year by choosing $1,000 deductibles rather than the more expensive $100 deductibles. At that price point, as long as your average time between claims is 16 months or more, you will come out ahead financially by choosing the higher deductible.
Rates by Make and Model of Vehicle
San Diego has all types of vehicles, from sporty sun chasers cruising the coast to tough four-wheel drive jeeps and trucks traversing Otay Mountain. Whatever vehicle you drive, it's going to have an effect on the rate you pay to insure it.
Exotic, expensive, or high-performance vehicles cost more to insure due to the higher cost to repair and a naturally higher actual cash value. Larger 3/4 and 1-ton trucks tend to be more expensive than average due to having a higher-than-average liability claim frequency.
The table below shows estimated auto insurance costs for a variety of popular vehicles in the San Diego area.
San Diego Car Insurance Rates for Popular Vehicles
Make and Model
Annual Premium
Monthly Premium
Chevrolet Silverado
$1,711
$143
Dodge Ram
$1,756
$146
Ford Escape
$1,350
$113
Ford Focus
$1,566
$131
Ford Fusion
$1,719
$143
Ford F-150
$1,523
$127
GMC Acadia
$1,490
$124
GMC Sierra
$1,683
$140
Honda Accord
$1,512
$126
Honda Civic
$1,771
$148
Honda CR-V
$1,313
$109
Honda Pilot
$1,538
$128
Hyundai Sonata
$1,644
$137
Kia Optima
$1,676
$140
Nissan Altima
$1,668
$139
Nissan Rogue
$1,629
$136
Toyota Camry
$1,650
$138
Toyota Corolla
$1,614
$135
Toyota Prius
$1,506
$126
Toyota RAV4
$1,527
$127
Get Rates for Your Vehicle Go
Top Ten Car Insurance Companies in San Diego
The companies listed below are ranked by market share, with average rates in the state of California. San Diego's rates are really quite low compared to some other areas in California like Los Angeles and San Francisco. Car insurance prices in San Diego run right around the state average.
State Farm is the largest insurer in the state of California, with Farmers Insurance a close second. USAA has the best overall car insurance prices in San Diego, but drivers have to have a military affiliation in order to buy from them. With San Diego's large naval presence, USAA would be a good option for many families.
California Car Insurance Companies
Rank
Company
Market Share
Average Rate
1
State Farm
14.45%
$1,716
2
Farmers Insurance
12.45%
$1,986
3
Allstate
8.74%
$1,528
4
Mercury General
8.27%
$1,518
5
Auto Club
8.11%
$2,526
6
Geico
7.81%
$1,544
7
CSAA
6.58%
$1,210
8
USAA
4.49%
$1,132
9
Progressive
4.17%
$1,527
10
Liberty Mutual
3.40%
$2,241
Get Your Rates Go
Source: National Association of Insurance Commissioners (NAIC) 2015 Market Share Report and The Zebra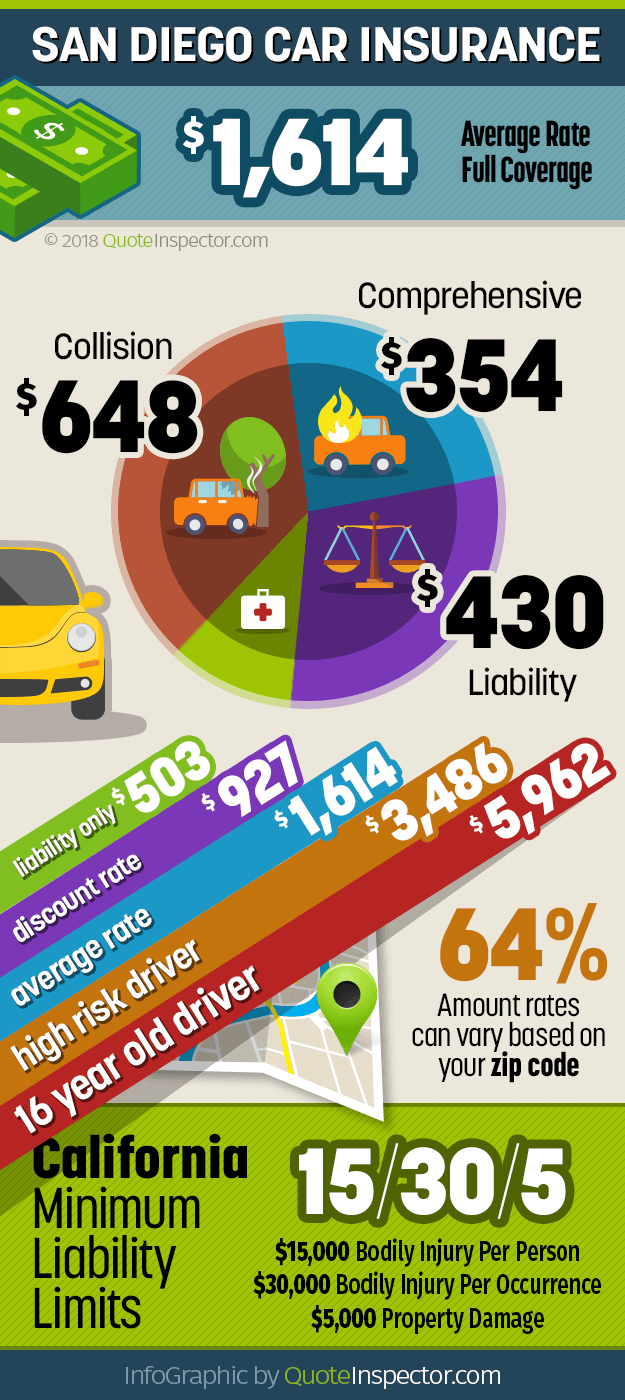 Top Ten Ways to Save on San Diego Car Insurance
We covered a lot of rate information, but chances are you're looking for ways to find cheaper auto insurance. The following are our top ten ways to save money when shopping for coverage in San Diego.
If your car is getting older and the cost for comprehensive and collision coverage is more than 10% of the actual cash value of the vehicle, you might consider dropping full coverage
Raising physical damage deductibles can save up to $700 a year. If you have adequate savings, consider this step to reduce rates.
Take a hard look at your policy coverages and eliminate the one's you really don't need. This might include things like an auto club membership, towing coverage, or rental reimbursement.
Make sure you're earning all the discounts you're entitled to. Some are more difficult to determine if you qualify, so ask your agent or company.
If you're in the market for a new vehicle, check rate quotes with several agents or companies prior to purchasing. You may find that the difference in insurance prices may be the determining factor of which model you buy.
If you have a teen driver on your policy with full coverage, consider dropping comprehensive and collision and only insuring for liability.
If you normally have a clean driving record but you get a ticket, check into a driver's safety course that could keep the ticket off your record.
Never allow coverage to lapse between policies. Companies want to see that you have maintained continuous coverage, and if you have a gap, chances are good you'll pay a surcharge.
If you're looking at switching companies, quote your policy well ahead of the renewal date and do it online. Many companies offer big discounts if you are prompt and do the work yourself.
The best way to lower your San Diego car insurance rates is to shop around. There are a lot of companies to choose from, and if you take a little time to compare rates, you could save some serious cash. Price quotes are always free and the more quotes you get, the more potential you have to save.
Find the Cheapest Quotes in Your Area
Get multiple rate quotes instantly and find your cheapest rate
Compare Rates Now
Find companies with the cheapest rates in San Diego
Rates by Driver Age
San Diego Insurance Rates by Driver Age

| Driver Age | Premium |
| --- | --- |
| 16 | $5,962 |
| 20 | $3,726 |
| 30 | $1,689 |
| 40 | $1,614 |
| 50 | $1,473 |
| 60 | $1,445 |
Full coverage, $500 deductibles
Rates by Deductible
Insurance Rates with Different Deductibles

| Deductible | Premium |
| --- | --- |
| $100 | $2,056 |
| $250 | $1,851 |
| $500 | $1,614 |
| $1,000 | $1,387 |
Full coverage, driver age 40
Rates by Liability Limit
Insurance Rates with Different Liability Limits

| Liability Limit | Premium |
| --- | --- |
| 30/60 | $1,614 |
| 50/100 | $1,699 |
| 100/300 | $1,807 |
| 250/500 | $2,086 |
| 100 CSL | $1,742 |
| 300 CSL | $1,979 |
| 500 CSL | $2,151 |
Full coverage, driver age 40
Rates for High Risk Drivers
Insurance Rates for High Risk Drivers

| Age | Premium |
| --- | --- |
| 16 | $8,510 |
| 20 | $5,925 |
| 30 | $3,570 |
| 40 | $3,486 |
| 50 | $3,329 |
| 60 | $3,296 |
Full coverage, $500 deductibles, two speeding tickets, and one at-fault accident
If a financial responsibility filing is required, the additional charge below may also apply.
Potential Rate Discounts
If you qualify for discounts, you may save the amounts shown below.
| Discount | Savings |
| --- | --- |
| Multi-policy | $86 |
| Multi-vehicle | $83 |
| Homeowner | $23 |
| 5-yr Accident Free | $121 |
| 5-yr Claim Free | $104 |
| Paid in Full/EFT | $75 |
| Advance Quote | $80 |
| Online Quote | $115 |
| Total Discounts | $687 |
Rate after discounts
$927
Discounts are estimated and may not be available from every company or in every state.