Worst Traffic by City in 2023
Enter your zip code below to view companies that have cheap auto insurance rates.
UPDATED: Jun 6, 2023
It's all about you. We want to help you make the right coverage choices.
Advertiser Disclosure: We strive to help you make confident car insurance decisions. Comparison shopping should be easy. We are not affiliated with any one car insurance provider and cannot guarantee quotes from any single provider.
Our insurance industry partnerships don't influence our content. Our opinions are our own. To compare quotes from many different companies please enter your ZIP code on this page to use the free quote tool. The more quotes you compare, the more chances to save.
Editorial Guidelines: We are a free online resource for anyone interested in learning more about auto insurance. Our goal is to be an objective, third-party resource for everything auto insurance related. We update our site regularly, and all content is reviewed by auto insurance experts.
---
Key Takeaways:
The city with the worst traffic in the U.S. is in the 10 worst cities for traffic worldwide
The 10 worst cities for traffic in the U.S. average 133 lost hours per driver
Drivers in the U.S. city with the best traffic average 19.8 minutes per commute
---
None of us likes to be stuck in traffic. And sadly, Americans are spending an increasing amount of their lives stuck behind the wheel in congestion, especially in these U.S. cities for the worst traffic.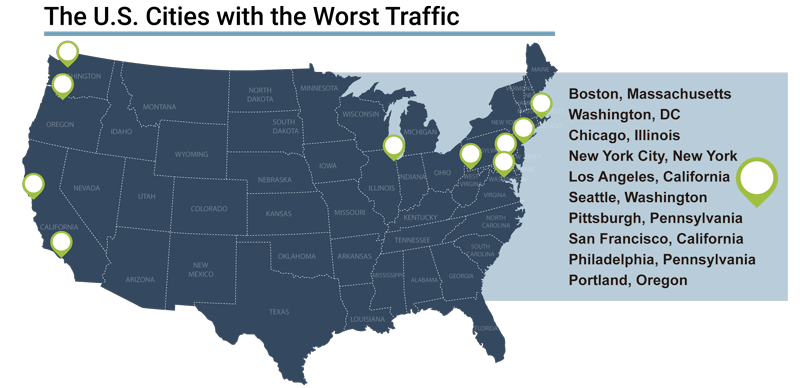 Americans spend a lot of time commuting to and from work. This has wide-ranging effects including lost productivity, congestion costs on cars, and even impacts on car insurance in different states.
Imagine: Many commuters are spending an entire weekend's amount of time stuck on a highway in traffic congestion in just a month. That's frustrating, to be sure.
In this feature, we'll take a look at the 10 U.S. cities with the worst traffic situations, including average hours lost to congestion, as well as the cities with the best traffic scenarios, the causes of traffic congestion, and what is being done to address the unavoidable problem of traffic.
Some additional topics we'll look at include:
Cities with the least traffic
Worst city to drive in the USA
Traffic in America
We will also show you how levels of traffic in an area can drastically affect car insurance rates. Are you overpaying for your coverage?
Find out now by simply entering your ZIP code into our free online quote comparison tool. It'll give you the best rates for the area you in live based on your insurance needs.
Okay, let's get to the ranking.
What U.S. cities have the worst traffic?
CNN reports that the average American driver spends 54 extra hours a year in traffic delays versus traveling at free-flow speeds. As they explain:
"That's two and a half days. That's an extra weekend. That's an entire TV show. Hardened commuters in big cities may find that number a bit precious, but that's only the average time wasted. Commuters in the 15 most-congested cities spent an average of 83 hours stuck in traffic."
There are a variety of ways to think about "worst traffic" situations. From commute distance to commute time and cost of commute to the number of accidents, a wide range of factors should go into calculating a city's overall traffic situation.
That's why we rely on the folks at INRIX. INRIX is the industry leader in traffic information, delivering their annual INRIX scorecard for all major cities around the world. They determine a city's overall traffic rank by looking at four primary indicators:
Congestion levels
Driving time spent in congestion
Inner-city last-mile speed (mph)
Cost of congestion per driver
In the table below, we've tabulated the 10 worst cities in the United States for traffic, including their U.S. congestion rank, world congestion rank, hours lost in congestion, last speed of inner-city mile (mph), and the average cost of traffic congestion for each driver.
U.S. Cities with the Worst Traffic
| CITY | U.S. RANK | WORLD RANK | HOURS LOST | LAST MILE SPEED | CONGESTION COST |
| --- | --- | --- | --- | --- | --- |
| Boston, MA | 1 | 8 | 164 | 11 | $2,291 |
| Washington, DC | 2 | 19 | 155 | 11 | $2,161 |
| Chicago, IL | 3 | 23 | 138 | 12 | $1,920 |
| New York City, NY | 4 | 40 | 133 | 9 | $1,859 |
| Los Angeles, CA | 5 | 47 | 128 | 14 | $1,788 |
| Seattle, WA | 6 | 58 | 138 | 10 | $1,932 |
| Pittsburgh, PA | 7 | 59 | 127 | 13 | $1,776 |
| San Francisco, CA | 8 | 65 | 116 | 10 | $1,624 |
| Philadelphia, PA | 9 | 69 | 112 | 10 | $1,568 |
| Portland, OR | 10 | 70 | 116 | 13 | $1,625 |
As you can see, Boston tops the list of U.S. cities with the worst traffic. But it's not alone in the deeply concentrated Northeast-to-Mid-Atlantic corridor, the most crowded part of the country with consistently some of the most expensive car insurance rates.
This corridor includes four of the top 10 worst U.S. cities for traffic: Boston, Washington, D.C., New York City, and Philadelphia.
Since we mentioned that INRIX tracks traffic all over the world, you might be wondering where the worst cities for traffic in the world are. Here's a quick list of the top 10:
Moscow, Russia
Istanbul, Turkey
Bogota, Columbia
Mexico City, Mexico
Sao Paulo, Brazil
London, United Kingdom
Rio de Janeiro, Brazil
Boston, Massachusetts
St. Petersburg, Russia
Rome, Italy
It appears both Russia and Brazil have some serious problems with traffic, given that each country has two cities in the top 10 cities for the worst traffic in the world. Both Moscow and St. Petersburg catapult Russia to the top 10, while Sao Paulo and Rio de Janeiro get Brazil on the list.
But for now, let's take a closer look at each of the top 10 U.S. cities ranked with the worst traffic. We'll start with a single question: "Why is Boston Traffic so bad?"
#1
 –

Boston, Massachusetts

Boston sure has a lot of traffic. Just check out the video below to see how congested the city's over-stretched roadways can become, especially during morning and evening rush hours.

Whether you call it Beantown, Bawstan, or the Shining City Upon a Hill, Boston is one of the oldest and most unique American cities. The capital and most populous city of the Commonwealth of Massachusetts, 685,094 people call Boston home, and that means a lot of vehicles, which is why Boston has the worst traffic of any American city.

But that's not all Boston has. The city is also home to some of the finest medical centers, such as Massachusetts General Hospital, and the best universities in the world, such as Harvard. Premiums for car insurance in Massachusetts, can be pretty expensive, given all these factors.
#2
–

Washington, D.C.

You might know it as the Federal City, Chocolate City, or the Great White City. Over 633,427 people call our nation's capital home, and it's one of the quickest growing metros in the United States, leading to its second-place finish in the ranking of cities with the worst traffic.

But with a great metro transit system, Washington, D.C. is also a great place to visit for a weekend or a lifetime.
#3
–

Chicago, Illinois

The first of the Big Four American cities on our list, 2.716 million call Chicago home. That leads to a lot of traffic in the Windy City. But it's also home to the Chicago Cubs and the Chicago White Sox, the University of Chicago and Northwestern University.

So don't write the Windy City off just because it has a lot of traffic. But be aware that car insurance rates for Chicago drivers are pretty expensive when insuring vehicles compared to the national average.
#4
–

New York City, New York

We've reached America's biggest city: the City of New York. 8.623 million people call the Big Apple home, but they're not the only ones. Many financial, design, fashion, legal, and philanthropic organizations are based in New York City, not to mention New York University and Columbia University.

That means this cultural hub is the hub of a lot of vehicles, which lands NYC at number four on our list of U.S. cities with the worst traffic. It also means New York City's auto insurance rates are very high.
#5
–

Los Angeles, California

Los Angeles is famous for its traffic congestion. Just ask the residents featured in the video below from Los Angeles CBS 2.

Our first West Coast city, Los Angeles has the fifth-worst traffic situation in the United States and not surprisingly, LA's average car insurance are very high.

The City of Angels is home to more than 4 million people and not much of a public transportation system to speak of, so the city's major thoroughfares, such as Interstate 5, can become easily congested.

And even though L.A. is home to the world's entertainment industry, that doesn't mean its traffic is very entertaining.
#6
–

Seattle, Washington

Seattle is home to more than just the Space Needle, houseboats, and coffee shops. It's quickly become a center of the tech industry, home to Microsoft, Google, and Amazon, in addition to the 724,745 people who call the Emerald City home.

Car insurance rates aren't that bad in Seattle, thankfully, despite the state of Washington having some of the strictest car insurance minimums across the country.
#7
–

Pittsburgh, Pennsylvania

Pittsburgh's CBS affiliate is reporting on the city's perhaps-surprising traffic problems in the video below.

You might be surprised to see Pittsburgh on our list of cities with the worst traffic, but never sell the City of Champions short.

Two things are currently leading to Pittsburgh's traffic problems. First, the city has some unique topographic challenges to build roadways around, such as mountains and rivers that converge here. Secondly, the city's tech and creative industry sectors are growing fast. From 2009 to 2016, the Steel City's super creative core positions grew 21 percent.
#8
–

San Francisco, California

The City by the Bay is home to some 884,363 people and is growing more each day. That means more cars moving in and out and within the city, which, like Pittsburgh, faces some unique topographic challenges to expanding roadways and other thoroughfares.
#9
–

Philadelphia, Pennsylvania

Don't tell Philadelphia that Pittsburgh beat them on this list, as these two Pennsylvania metros have quite the rivalry growing. But lo and behold is may be America's Birthplace, but Pennsylvania roadways have the ninth-worst traffic of any U.S. city and some of the highest car insurance premiums anywhere.

Approximately 1.581 million people call Philly home, alongside the University of Pennsylvania, the Liberty Bell, and lots of Ben Franklin statues.
#10
–

Portland, Oregon

Check out the video below from Portland's CBS affiliate to see just how bad traffic can be in this gem of a Pacific Northwest city.

Like Pittsburgh, many folks might be surprised to see Portland, Oregon, as the city rounding out the 10 U.S. cities with the worst traffic. But over the last two decades, more and more folks are flocking to that Portland lifestyle: a temperate climate close to a gorgeous coast with progressive ways of living.

Currently, 647,805 people call Portland home, and its roadways are in the process of catching up to this growth. Despite this, Portland doesn't have higher-than-normal car insurance rates, which is good news.

A car's location — and that location's congestion levels — is one of the items that go into determining car insurance rates. So it's important to learn about the traffic situation in your area, no matter where you live.
Free Auto Insurance Comparison
Enter your zip code below to view companies that have cheap auto insurance rates.
Secured with SHA-256 Encryption
What U.S. cities have the best traffic?
Best traffic? It seems like an oxymoron, perhaps. But no matter where you live, in a tiny town or a sprawling metropolis, you will face traffic. So it's good to know what U.S. cities have a reputation for the best traffic scenarios.
Livability.com is the "go-to resource for anyone looking to discover the best places to live, work and visit." They've ranked the 10 U.S. cities that are awesome for having little to no traffic. We've tabulated these rankings in the table below, where the average one-way commute is listed in minutes.
U.S. Cities with the Best Traffic
| CITY | POPULATION | AVG. COMMUTE | RANK |
| --- | --- | --- | --- |
| Sioux Falls, SD | 176,888 | 19.8 | 1 |
| Asheville, NC | 91,902 | 19.2 | 2 |
| Albuquerque, NM | 558,545 | 23 | 3 |
| Ames, IA | 66,498 | 16.8 | 4 |
| Fresno, CA | 530,093 | 22.2 | 5 |
| Dayton, OH | 140,371 | 20.7 | 6 |
| Lexington, KY | 321,959 | 21.2 | 7 |
| Birmingham, AL | 210,710 | 25.7 | 8 |
| Corpus Christi, TX | 325,733 | 19.9 | 9 |
| Greensboro, NC | 290,222 | 19.8 | 10 |
Though these cities are all small-to-midsize metros, they range along most other demographic lines. Some are actually quite large cities, like Albuquerque, New Mexico and Fresno, California. Others are pretty small, like Ames, Iowa and Asheville, North Carolina. Some are college towns, like Lexington, Kentucky and Dayton, Ohio.
Added bonus: Home of the city with the best traffic, South Dakota's car insurance rates are very cheap, some of the most affordable across America.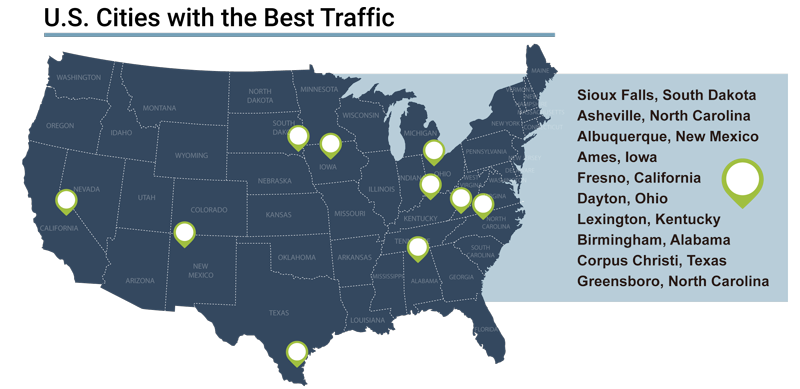 According to DataUSA, the average American worker has a one-way commute time of 25.7 minutes. All of these cities fall below this average commute time, save for Birmingham, Alabama, which has a commute time spot-on the national average.
What leads to roadway congestion?
At times, it's hard to know what causes traffic congestion. There are everyday, unexpected problems such as car accidents, and ongoing issues such as construction. But in reality, however, there are some scientific things we can conclude about traffic congestion overall.
Geotab is a world leader in telematic research and in particular, they lead in studying what telematics can tell us about traffic. Through their research, they've boiled down the causes of traffic congestion to four main categories.
#1
–

E

nvironment (non-recurring)

In essence, non-recurring environmental factors are the conditions, especially weather, under which we drive. Geotab reports:

"Traffic collisions increase by around 50 percent during snow and rain. From rainy or foggy weather to the extreme snowstorm that stops drivers in their tracks, weather has an uncontrollable effect on not just traffic but road conditions as well."

They conclude that "bad weather is the main culprit in 15 percent of traffic congestion cases."
#2
–

Mechanical (non-recurring)

Mechanical failures, such as tire blowouts or stalled engines, are a leading cause of traffic congestion. As the drivers of cars, we might think that we can always prevent these occurrences, but Geotab kindly explains:

"While humans can help prevent and decrease mechanical issues by inspecting vehicles before every trip and making sure preventive maintenance cycles are followed, either way, these issues require the driver to get off the road."

That's some safe and sound advice.
#3
–

H

uman (non-recurring)

Okay, the truth is sometimes we are at-fault for traffic congestions through the accidents or other vehicular incidents we cause. Geotab reports:

"The all-too-common cause of traffic is humans. From distracted or drunk driving to drowsy driving or emotional driving, there are many dangerous scenarios — even with our opposable thumbs and large frontal lobes — that humans trigger on the road."

The National Highway Traffic Safety Administration (NHTSA)'s 2016 traffic fatality statistics gives a heartbreaking look at the chaos our very human decisions cause on the road:
There were 29 alcohol-impaired driving fatalities per day. This number has been steadily increasing over the last few years.
In the passenger car segment, 21 percent of drivers involved in a fatal collision had a blood alcohol content of .08 or higher.
Speeding-related accidents accounted for 27 percent of fatalities.
So take every measure to drive more safely. This will protect not only you and your passengers but also your neighbors on the road.
Or off the road: Pedestrians are some of the most at-risk travelers and account sometimes for over 20 percent of traffic fatalities in a state. To learn more, check out our shocking study: Deadliest Cities for Pedestrians.
#4
–
Infrastructure (recurring)
Especially in more populated areas, such as all the cities on the above list of the 10 U.S. cities with the worst traffic scenarios, ongoing infrastructure issues such as construction and lack of maintenance can lead to bad traffic congestion.
Geotab argues:
"From potholes that cause slowdowns to bottlenecks in areas that out-populated their roadways, infrastructure is the hidden troll that amplifies traffic problems… bottlenecks alone account for 40 percent of traffic congestion causes, according to the DOT. Ironically, in our efforts to improve infrastructure, construction also causes 10 percent of traffic."
For a good illustration of this, check out the video compilation below of folks facing potholes on the road.
Aceable wisely explains that the causes of traffic congestion range from the common to the rare. But now that you know a little bit more about the core causes of traffic congestion from years of research, you can drive with more knowledge at your disposal behind the wheel.
What is being done to address traffic problems?
It's a good question. With about 276 million vehicles on American roadways, traffic issues are an unavoidable part of modern life. So let's take a look at what city, county, state, and the federal government are doing to address traffic problems across the country.
A study from the Brookings Institute argues that there are four things we can do to address traffic problems:
Charge peak-hour tolls: That is, "charge people money to enter all the lanes on major commuting roads during peak hours."
Expand road capacity: As you can see driving through almost any American city, we're trying to do this. However, expanding road capacity cannot be the be-all-end-all solution; as Brookings explains, expanding road capacity to meet total need is "totally impractical and prohibitively expensive."
Expand public transit capacity: Like expanding road capacity, residents can see the expansion of public transit before their very eyes. Similarly, Brookings concludes that "there are many good reasons to expand the nation's public transit systems to aid mobility, but doing so will not notably reduce peak-hour traffic congestion."
Learn to live with congestion: Want to live in a city? You might just have to learn to live with congestion. As Brookings explains, "the only feasible way to accommodate excess demand for roads during peak periods is to have people wait in line."
Of course, not all hope is lost. More and more regions are not only investing in motor vehicle infrastructure but are also encouraging expansion along the lines of walkability and working from home. (Remember, however, that even if you don't own a car, you might still need non-owner car insurance.)
Some rural places are even beginning to put initiatives in place to attract remote workers. A recent initiative by the state of Vermont will pay you $10,000 to move to the state and work from home (or one of the state's many great coffee shops).
What do experts say about traffic congestion in U.S. cities?
We asked a variety of experts — such as transportation, law, public safety, urban planning, traffic, automobile, lifestyle, travel, and design professionals — to weigh in on the issue of traffic across the United States. Below are some solid opinions on this pressing issue direct from these industry experts.
"Getting through traffic is often one of the most frustrating challenges of driving today. It is important to remember that, although frustrating, traffic can most quickly be handled by slowing down, taking your time, moving over, and/or taking turns while merging. 
We all hate the backlog. It has been shown in recent studies that the chances of a secondary collision increase exponentially the longer backlog exists. Trust me when I say, we as first responders want to clear the roadways as fast as you do.
Several first responders, including law enforcement, firefighters, paramedics, and tow truck drivers, have been struck and killed already in 2020, mostly during secondary crashes. These crashes often occur due to distracted driving in and around emergency scenes as well as construction.
One of these paramedics was a close friend of mine from the Pittsburgh area, Matthew Smelser.
As he was arriving at a crash on Interstate 70, near Smithton, PA, his ambulance was struck by a driver as a secondary collision. He exited his ambulance to care for the driver of the colliding vehicle when a tertiary collision occurred in which he lost his life.
Although the weather was a huge contributing factor, slowing down, moving over, and staying focused may have also prevented these events from occurring. 
This topic allows us to segue into another large contributor to backlog and traffic: weather. Rain, fog, snow, sleet, hail, you name it, can all severely contribute to traffic issues. 
Again, the best way to keep it moving is patience, slow, steady, taking turns (when necessary), and staying hyper-focused on the task, Driving. Slow down, phone down, turn down (radio) can prevent accidents and keep traffic moving."
Brett Greenlee is a first responder representative with Premier Safety.
Premier Safety has supported the first responder industries for over 60 years.
---
What U.S. cities have the worst traffic?
"Definitely among the top cities are Los Angeles, Washington, New York, Seattle, and Boston. Most of these cities are also high above the ranking of most populated cities, which is a reason why traffic is terrible in these places."
What leads to bad traffic?
"Population, although one of the major reasons for congestion, isn't the only thing that leads to terrible traffic. A combination of an inefficient public mass transport system, unimplemented laws on illegal road parking, and various road blockages should be factored in as well.
But in every area you look that has horrible traffic, there is usually one major problem: inefficient public transportation.
Without a reliable and convenient mass transport system, people are forced to bring their own vehicles to various places. This increases the number of cars on the road, which then leads to intense traffic." 
What are cities doing to alleviate traffic problems?
"Cities have tried many things to help lessen traffic congestion. About 10 years ago, many cities implemented parking reforms to discourage driving. The reform covers both parking prices and reducing free on-street parking. 
Nowadays though, cities are equipped with better plans and smarter technologies that can help alleviate traffic congestion.
For Columbus, Ohio, they are determining the best flow of traffic to improve the timing of their traffic signals. They are using vehicle-to-infrastructure technology and sending out government vehicles to collect data about the speed and movement of traffic. The data is then analyzed to know how long the vehicles wait at stoplights.
In Kansas City and several other cities, they are making their public transport easier for their residents so that more and more private cars are taken out of the road. Kansas City even introduced a free-ride system that's able to give rides to thousands of passengers daily.
Real-time traffic alerts plus navigation apps are a huge help in any city as well. With drivers knowing which areas are congested, they can opt to take a better route that won't add to the volume of traffic on the congested area."
William Johnson is an automotive enthusiast and founder of RatedRadarDetector.
He designed a calculator showing ticket costs in every state based on traveling speed.
---
"I live in the San Francisco Bay Area and a lot of factors contribute to the horrible traffic situation here.
There is only one local train line (CalTrain) but a lot of train stops are not located close to major employers in the area: Facebook, Apple, Genentech, and many other big companies' headquarters are not within walking distance from the station, so it is a hassle to use the train.
The local subway-type transportation system, BART, is bad because it is slow, it has lots of homeless people riding it, it is not clean at times and people often try to avoid it.
The area is separated by the Bay with only three bridges leading to the peninsula from the east and one from the north. The peninsula is where all major employers are located, so the bridges are pretty much at standstill during rush hours.
The traffic is bad in the mornings and evenings, with evenings being worse because it seems like no matter when people come into work, they still all want to leave around 5 p.m.
My suggestions for improvement of the current situation in the San Francisco Bay Area:
Build a better public transportation system, especially one that will connect East Bay to the peninsula and towns in the South Bay with each other and the peninsula. Some sort of above-ground light rail system such as those that exist in Miami and Chicago could be a possible solution.

Encourage more people to carpool through rewards programs.

Build more flexible working arrangements at major employers in the Bay Area, such as telecommuting at least two days a week."
Tatiana Sorokina is a travel blogger based in the San Francisco Bay Area.
On FamilyRoadTripGuru she educates her readers about road trips across North America.
---
What U.S. cities have the worst traffic?
"Miami, Florida has been voted the #1 worst community for traffic in the United States. We can confirm this, given our company headquarters are in Miami. Second is New York City; however, their public transportation helps, whereas Miami has one of the worst systems in dire need of an upgrade.
Charlotte, North Carolina has now become a high traffic count community given the number of corporate headquarters that have moved there."
Can you share a specific story about a city's traffic problem?
"In Miami, locals and visitors rely upon a high-priced taxi service that is not reliable, and the drivers are not used to the level of foreign drivers who do not understand the roadways. Plus now the community allows bikes, rental scooters, skateboards, and roller skaters to use the full auto lane on a major road.
This is insane, has killed traffic patterns, and caused many accidents. The community leaders are in denial and constantly say they are researching ways to accommodate traffic, but we are hard-pressed to see relief."
What leads to bad traffic?
"In Miami, traffic lights not being in sync is a major contributor to traffic tie-ups. Then as mentioned above, bikes, scooters, and skateboards allowed to use full lanes not only slows down traffic patterns but also leads to many elements of road rage displayed by frustrated drivers.
The mass transit system is outdated, buses are quick to break down and never use the cutout lanes to pick up passengers, causing traffic jams beyond belief. We also notice no police traffic presence."
When is traffic worst?
"Miami is a 24/7 town and from 5 a.m. to 10 a.m., you can be in hours-long traffic jams and never make appointments on time. Buses are not abundant and when full they bypass you and wait times become longer. Shared rides are slower at times, too. Weekend evenings in South Florida are horrible, and you must leave one hour earlier than you are expected."
Do you have recommendations for people to avoid horrible traffic?
"I recommend that companies:
Use more video conferencing

Make meetings between 11 a.m. to 2 p.m. or during lunch
If you hold after-hour meetings you will be caught in unpredictable traffic due to accidents or dignitaries coming to our community and police motorcades stop traffic at the worst imaginable hours."
What are cities doing to alleviate traffic problems?
"Some are offering free trolley use in small settings. 
Example: Miami is now adopting trolleys and golf carts having up to eight riders who need to go perhaps up to 10 blocks, and these seem to help get people out of cars or keep them parked while they hop a temp ride to go a short distance due to rain, bad weather or insane traffic.
Many carts do ride on the sidewalks when not in use. We have witnessed that many times. Others are offering toll paid lanes whereby speed limits are increased and insist upon multiple riders."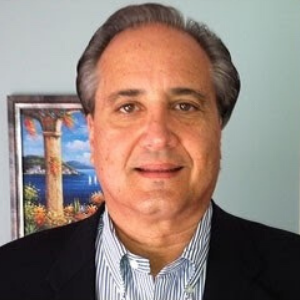 Jim Angleton is the president of Aegis FinServ Corp.
AEGIS provides 65 percent of all travel transportation cards to U.S. government employees.
---
So what do we know about U.S. Cities with the worst traffic?
Americans spend a lot of time in traffic. As we've discussed above, we spend an average of 54 extra hours a year in traffic delays. And that's just extra hours — hours we could be watching Netflix, hanging out with our friends, or reading a great book.
In this study, we used four elements — congestion levels, driving time spent in congestion, inner-city last-mile speed, and average cost of congestion per driver — to determine the 10 U.S. cities with the worst traffic.
The results? Boston, Massachusetts; Washington, D.C.; Chicago, Illinois; New York City, New York; Los Angeles, California; Seattle, Washington; Pittsburgh, Pennsylvania; San Francisco, California; Philadelphia, Pennsylvania; and Portland, Oregon.
These cities range on any number of factors. Some of them are Northeastern corridor metros one might expect to be on this list, such as Boston and New York City. Others are perhaps surprising, such as Pittsburgh and Portland. But they all have high congestion levels where drivers spend a great deal of time and money in traffic.
Other cities, such as Greensboro, North Carolina and Corpus Christi, Texas, fare far better, with shorter commute times, lower congestion levels, and less money taken up by traffic. These cities tend to be small to midsize, but are still great places to live.
To avoid traffic congestion, cities are expanding their infrastructure while also shifting the focus away from driving alone to work to either walking, taking public transit, or working from home. Our research shows that as many regions across the United States continue to grow, these initiatives are not only helpful but also a necessity.
Frequently Asked Questions: The Worst Traffic from Different Perspectives
We've taken a look at the worst cities for traffic in the U.S. and the best cities for traffic. Through our research, we know the worst 10 cities for traffic in the world and how cities are approaching the issue of traffic from different angles.
Now, let's get to your frequently asked questions. These questions cover everything from the busiest highway to the the countries with the worst traffic in the world.
#1 – Which cities in the world have the worst traffic?
As we've seen in our ranking, Moscow, Russia, Istanbul, Turkey, and Bogota, Colombia are the three cities in the world with the worst traffic. Latin American countries have four of the 10 cities in the world with the most traffic. This is due, in part, to the high levels of urbanization combined with informal, badly organized communities and poor infrastructure.
#2 – Which state has the worst traffic?
The state with the worst traffic is Hawaii, due to numerous factors. These include a high number of vehicles compared to the amount of roadways and the geography of Hawaii, which often makes it impossible to get from one side of an island to another in a straight line. This creates more congestion.
#3 – What countries have the worst traffic?
Russia and Brazil are the only two countries that feature two cities in the 10 worst cities for traffic worldwide. According to publications and travelers, Russia has poor conditioned roads when outside of the cities along with drivers reputed to be the worst in the world. Brazil, like many Latin America countries, has seen an incredible amount of urbanization in the last few decades along with poorly conditioned roads and inefficient grid patterns. This has led to a great deal of traffic congestion in major urban areas.
#4 – Which state is the longest to drive through?
Alaska is the longest state to drive through with 1,400 miles long, 2,700 miles wide, and nearly 34,000 miles of shoreline. That may not come as a surprise as Alaska is the largest state in the U.S. with over 663,000 square miles. In fact, Alaska is bigger than almost all countries in the world. The shortest amount of time to cross Alaska, depending on speed, is about 24 hours. There are also considerable dangers of driving in Alaska, which might lengthen a trip.
#5 – What is the busiest highway in America?
The data on what makes the busiest highway in America shifts every year, but there's a consistent highway always mentioned: I-90. This highway, which practically takes a driver from coast-to-coast, traffics over 320,000 vehicles daily. It takes a driver through 13 states and contains incredible variance in topography. You will even travel across some of the longest bridges in the U.S.
#6 – What state has the best drivers?
The state with the best drivers for 2020 is Minnesota. The North Star State scores number one in the category of careless driving with just 44 pedestrians and bicyclists killed in 2018. Its worst category was in failure to obey, which took into account factors like obeying traffic signals or wearing a seat belt. In this category, it ranked sixth in the country. For drunk driving, speeding, and death rate, it ranked between second and fifth for all states.
Methodology: Determining the U.S. Cities with the Worst Traffic
In our study of the most traffic-congested cities for drivers in the United States, we combined data collated by INRIX and the National Highway Traffic Safety Administration (NHTSA).
INRIX provided us with an analysis of congestion and mobility trends while data from the NHTSA provided us with safety statistics — from the number of crashes to traffic deaths. Together, this data led us to rank the most-congested cities for drivers in the United States.
We used this data to tabulate the rank of each city's congestion against not only American cities, but also cities around the world according to 2018 hours spent in congestion, inner-city last-mile speed, and average financial cost of congestion for each commuter.
Our rankings take into account not only these factors but also add in factors of livability and efforts to alleviate commute frustration to come up with our overall ranking of the best and worst commuting locations.
In addition to data from INRIX and the NHSTA, we conducted our study using primary research from CNN, Livability.com, Geotab, and The Brookings Institute.
Now you know more about traffic in the worst and best cities in America. Traffic affects car insurance rates, as high traffic periods can lead to more accidents.
These accidents create a risk factor for insurance companies in that area, as it could lead to more claims. Knowing which companies penalize policyholders more for accidents is important for you to know as well.
Whether you've been in an accident or not, there are many ways you can save on auto insurance rates. The easiest and quickest way is to compare live auto insurance quotes from different companies.
Plug your ZIP code into our free quote tool to receive the best auto insurance quotes in your area personalized for your needs — insurance and financial.
References:
Frequently Asked Questions
Which city had the worst traffic in 2023?
According to the latest data, the city with the worst traffic in 2023 was New York City.
What factors contributed to the high traffic congestion in the worst city?
Several factors contributed to the high traffic congestion in New York City in 2023. These factors included a rapidly growing population, increased reliance on private vehicles, road construction projects, inadequate public transportation infrastructure, and the ongoing challenges of managing traffic flow in a densely populated urban area.
How did the worst traffic affect the daily commute for residents in that city?
The worst traffic in New York City had a significant impact on the daily commute for its residents. Commute times were often prolonged, with delays and congestion adding significant stress to people's lives. It led to increased frustration, reduced productivity, and a decline in overall quality of life for many residents.
Were any specific measures taken to alleviate the traffic congestion in the worst city?
Yes, various measures were implemented to alleviate traffic congestion in New York City. These included initiatives to improve public transportation systems, such as expanding subway lines and bus services, implementing congestion pricing schemes to discourage private vehicle usage during peak hours, promoting carpooling and ridesharing programs, and investing in smart traffic management technologies.
Did the worst traffic impact the local economy of the city?
The worst traffic in New York City did have an impact on the local economy. Congestion and delays in transportation affected the efficiency of businesses, leading to increased costs and reduced productivity. It also deterred tourists and visitors, potentially affecting the revenue generated by the tourism industry. Furthermore, transportation-related industries and services faced challenges in maintaining schedules and meeting customer demands.
Frequently Asked Questions
Popular Rate Quotes
Compare Rates and Save
Find companies with the cheapest rates in your area