When should I drop full coverage on my car insurance?
Enter your Car Insurance Coverage FAQs zip code below to view companies that have cheap auto insurance rates.
UPDATED: Jul 10, 2023
It's all about you. We want to help you make the right coverage choices.
Advertiser Disclosure: We strive to help you make confident car insurance decisions. Comparison shopping should be easy. We are not affiliated with any one car insurance provider and cannot guarantee quotes from any single provider.
Our insurance industry partnerships don't influence our content. Our opinions are our own. To compare quotes from many different companies please enter your ZIP code on this page to use the free quote tool. The more quotes you compare, the more chances to save.
Editorial Guidelines: We are a free online resource for anyone interested in learning more about auto insurance. Our goal is to be an objective, third-party resource for everything auto insurance related. We update our site regularly, and all content is reviewed by auto insurance experts.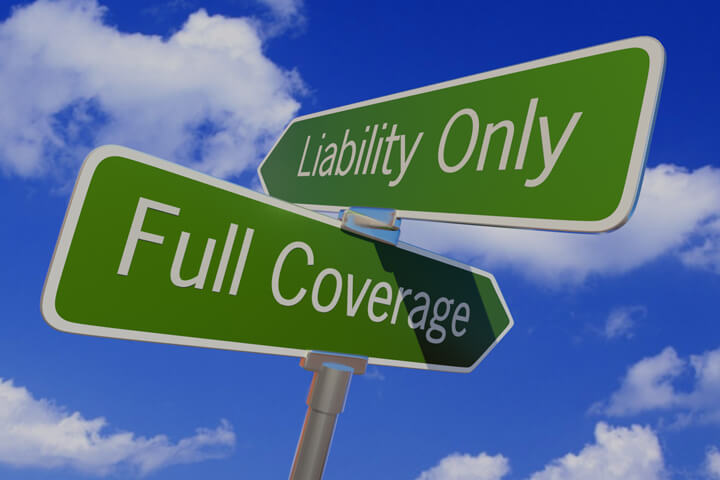 Unless you're one of the lucky drivers who buy or lease a new car every few years, chances are you have an older vehicle that may not need full coverage anymore. But when is the right time to eliminate comprehensive and collision coverage from your car insurance policy? Read on and we'll give you some guidelines.
The 10% Rule – When to Drop Full Coverage
There is no set-in-stone rule when it comes to removing full coverage from a vehicle. Everyone of us has a different financial situation and a different tolerance for risk. For some, the thought of driving without full coverage is enough to make them leave the car parked in the garage (but what if the house burns down?).
There is a general guideline that goes like this.
If the annual cost of comprehensive and collision coverage added together exceeds 10% of the market value of your car, it's time to start thinking about removing coverage.
So what does this mean? We'll give you an example.
Let's say you've driven that trusty Honda Accord since you bought it new off the showroom floor in 2008. You paid nearly $32,000 for it since it was the top-of-the-line EX model with the V-6 engine. It has 108,000 miles on it with all the options.
The market value for the vehicle is determined by a variety of means, but one of the easiest ways to gauge what it's worth is to use the NADA value. NADA is used by most car dealers and insurance companies to value vehicles, and you can determine your car's value on their website.

Free Auto Insurance Comparison
Enter your zip code below to view companies that have cheap auto insurance rates.
Secured with SHA-256 Encryption
For our example, the 2008 Accord EX value is $6,550 for a clean trade-in, or $8,950 at retail at the time of this writing.
The fair market value will fall somewhere in between those two values. It's worth more than what you'd get if you traded it in to a dealer, but maybe not worth quite as much as a dealer would try to sell it back to you.
So for this example, we'll use $8,000 as a nice round number. Using the 10% rule, if comprehensive and collision coverage costs more than $800 a year, then it is probably time to think about dropping coverage.
That's it. No fancy formulas or complex algorithms. Just a simple guideline to use when deciding whether full coverage is costing more than it's worth.
Considerations when dropping full coverage
Here are a few things to keep in mind when deciding to drop full coverage:
Ask yourself (and be honest) if you are in a financial position where you can purchase a replacement vehicle if your car gets totalled. If not, then you probably want to keep full coverage.
Look at your deductibles. If you have low deductibles, you might just want to increase them to save money. You can cut your rates by up to 40% just by choosing a higher deductible.
If you still have a loan on your vehicle, then your loan agreement will require you to maintain full coverage until the loan is paid off.
If you drop full coverage and do not have it on any other vehicles on your policy, you do not have coverage if you purchase a new vehicle. So be sure to tell your agent to bind coverage BEFORE driving off the lot.
Do you live in an area with frequent hail storms, flooding, or vehicle theft? If so, maybe just consider dropping collision coverage and keep comprehensive coverage in place.
You may be able to find a different company that offers full coverage at a rate much lower than you're currently paying. We can help will that, just click the button below!
Case Studies: When to Drop Full Coverage on Car Insurance
Case Study 1: John's Old Pickup Truck
John owns a 2005 pickup truck that he purchased for $10,000 several years ago. The truck has served him well, but it's starting to show its age with over 150,000 miles on the odometer. He currently pays $1,200 per year for comprehensive and collision coverage, which is 12% of the truck's estimated market value of $10,000.
Considering the 10% rule, John decides it may be time to drop full coverage on his car insurance and save some money.
Case Study 2: Sarah's Reliable Sedan
Sarah drives a reliable sedan that she bought brand new in 2010. The car has been well-maintained and has only 60,000 miles on it. Its current market value is estimated at $7,500.
Sarah pays $800 per year for comprehensive and collision coverage, which is around 10.7% of the car's value. While the cost of coverage is close to the 10% threshold, Sarah feels more comfortable keeping the full coverage due to the car's low mileage and good condition.
Case Study 3: Michael's High-End Sports Car
Michael owns a high-end sports car that he purchased for $80,000 five years ago. The car is his pride and joy, but he rarely drives it and only takes it out on special occasions. His comprehensive and collision coverage costs him $2,500 per year, which is 3.1% of the car's market value.
Despite the low percentage, Michael decides to keep the full coverage as the car's value is still substantial, and any damage or theft could result in significant financial loss.
Find Lower Rates on Full Coverage
Frequently Asked Questions
What is full coverage car insurance?
Full coverage car insurance is a term often used to describe a policy that includes both liability coverage and comprehensive and collision coverage. Liability coverage protects you financially if you cause damage or injuries to others in an accident, while comprehensive and collision coverage helps pay for repairs or replacement of your vehicle in case of accidents, theft, or other covered events.
When should I consider dropping full coverage on my car insurance?
Deciding when to drop full coverage on your car insurance is a personal decision that depends on several factors. Some situations where you might consider dropping full coverage include:
The value of your vehicle: If your vehicle's value has significantly depreciated, the cost of the comprehensive and collision coverage may outweigh the potential benefits. It may be more cost-effective to pay for repairs or replacement out of pocket.
Financial considerations: If you are facing financial difficulties and need to reduce your insurance expenses, dropping full coverage and opting for liability coverage only can lower your premiums.
Age and condition of your vehicle: Older vehicles with high mileage or extensive wear and tear may not justify the cost of full coverage. Assessing the condition and potential repair costs can help determine if dropping full coverage is a viable option.
Are there any risks in dropping full coverage?
Dropping full coverage comes with certain risks that you should consider. Without comprehensive and collision coverage, you will be responsible for repair or replacement costs if your vehicle is damaged or totaled in an accident, regardless of fault. Additionally, if your vehicle is stolen or damaged by events such as natural disasters or vandalism, you won't have coverage for those losses.
How can I assess the value of my vehicle to decide whether to drop full coverage?
To assess the value of your vehicle, you can research its current market value using resources like online car valuation tools, dealer listings, or the National Automobile Dealers Association (NADA) guides. Compare this value to the cost of your full coverage premiums and any deductibles you would be responsible for in case of a claim. If the premiums and potential deductibles exceed a significant portion of your vehicle's value, it might be a sign to consider dropping full coverage.
Should I drop full coverage if I have a loan or lease on my vehicle?
If you have a loan or lease on your vehicle, dropping full coverage may not be an option. Lenders and leasing companies often require borrowers to maintain comprehensive and collision coverage until the loan or lease is fully paid off. This requirement protects their financial interest in the vehicle.
How can I make an informed decision about dropping full coverage?
To make an informed decision about dropping full coverage, consider the age, value, and condition of your vehicle, along with your financial situation and risk tolerance. Evaluate the potential costs of repairs or replacement without insurance coverage and compare it to the cost of maintaining full coverage. You can also consult with your insurance agent or a financial advisor who can provide personalized guidance based on your specific circumstances.
Can I add full coverage back to my policy later if I drop it?
Yes, in most cases, you can add full coverage back to your policy at a later date. However, keep in mind that adding comprehensive and collision coverage after a lapse may result in higher premiums or additional requirements, such as a vehicle inspection. It's recommended to consult with your insurance provider to understand the implications of adding full coverage back to your policy in the future.
Frequently Asked Questions
Popular Rate Quotes
Compare Rates and Save
Find companies with the cheapest rates in your area