Is flood damage covered by car insurance?
Enter your Car Insurance Coverage FAQs zip code below to view companies that have cheap auto insurance rates.
UPDATED: Jun 6, 2023
It's all about you. We want to help you make the right coverage choices.
Advertiser Disclosure: We strive to help you make confident car insurance decisions. Comparison shopping should be easy. We are not affiliated with any one car insurance provider and cannot guarantee quotes from any single provider.
Our insurance industry partnerships don't influence our content. Our opinions are our own. To compare quotes from many different companies please enter your ZIP code on this page to use the free quote tool. The more quotes you compare, the more chances to save.
Editorial Guidelines: We are a free online resource for anyone interested in learning more about auto insurance. Our goal is to be an objective, third-party resource for everything auto insurance related. We update our site regularly, and all content is reviewed by auto insurance experts.
With all the flood damage this year around Houston and southern Florida, many people are wondering if their car insurance will cover the damage caused by the flood waters. It's estimated the over 1 million vehicles alone in Houston will be a total loss, so car insurance for flood damage is a very popular topic.
Auto insurance is made up of liability insurance, which pays for damages you incur to other vehicles, people, or objects in an accident, and physical damage coverage, which pays to repair damages to your own vehicle.
Physical damage coverage consists of comprehensive or other-than-collision (OTC) coverage and collision coverage. Collision pays when you upset your car or have an impact with another vehicle or object. OTC coverage kicks in for the following perils:
Missiles or falling objects
Fire
Theft or larceny
Explosion or earthquake
Windstorm
Hail, water or flood
Malicious mischief or vandalism
Riot or civil commotion
Contact with bird or animal
Breakage of glass
Peril #6 on the list covers damages to your vehicle caused by flooding, so your auto insurance policy will cover damages under the OTC or comprehensive coverage.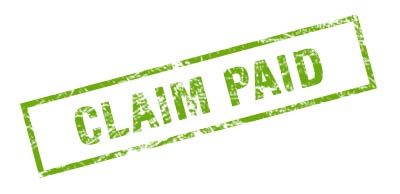 When you purchase physical damage coverage, you also choose a deductible amount, which must be paid by you prior to your insurance company covering a claim. Common deductibles range from $250 to $1,000, but some policies allow both higher and lower amounts.

Free Auto Insurance Comparison
Enter your zip code below to view companies that have cheap auto insurance rates.
Secured with SHA-256 Encryption
If the damage to your flooded vehicle is repairable, you will pay the deductible and your insurance company will pay the remainder of the repair cost. If your vehicle is a total loss, which is common with flood damage, your company will make a settlment offer based on the market value of the vehicle, or Actual Cash Value (ACV), prior to the damage. Any settlement that is made will be less your deductible.
So for example, let's say you own a 2012 Ford F-150 pickup and the fair market value is approximately $23,000. It was flooded in five feet of flood water and you have a $1,000 deductible for OTC coverage on your policy.
Your insurance company will declare the vehicle a total loss, and present you with a settlement offer. If you agree to the insurance company's settlement offer of $23,000, you will receive a check in the amount of $22,000.

If you do not agree to their offer, you have the right to challenge their settlement offer by presenting any information that substantiates a higher settlement. For example, the ACV of vehicles is based on comparable values of vehicles in the market, but if your truck had only 30,000 miles, it would be valued higher than comparable models for that year.
Most people are put in a tough spot after a total loss because they need to get another vehicle to replace the one that was destroyed. And the only way they can do that is to have the settlement check from the insurance company. But what people do not realize is that they can accept the initial settlement from the company, and then protest the valuation.
This gives insureds the funding they need to purchase a different vehicle, but they can continue arguing for a fair settlement.
Use our FREE quote tool to compare insurance rates now!
Frequently Asked Questions
Is flood damage covered by car insurance?
Yes, flood damage to your car is typically covered by car insurance if you have comprehensive coverage. Comprehensive coverage, also known as other-than-collision (OTC) coverage, is an optional coverage that protects your vehicle against damage caused by non-collision incidents, including floods. If your car is damaged by flooding, you can file a claim with your insurance company to cover the cost of repairs or, if the damage is severe, the fair market value of your car if it is declared a total loss.
What does comprehensive coverage or other-than-collision (OTC) coverage include?
Comprehensive coverage or other-than-collision (OTC) coverage protects your vehicle against various perils and incidents that are not collision-related. This coverage typically includes damage caused by fire, theft, vandalism, falling objects, hail, and floods. If your car sustains damage due to any of these covered perils, you can file a claim with your insurance company to have the repairs covered or receive compensation for a total loss.
Do I need to have comprehensive coverage to be protected against flood damage?
Yes, comprehensive coverage is necessary to have protection against flood damage. This coverage is optional, so it is not automatically included in your car insurance policy. If you live in an area prone to flooding or want to safeguard your vehicle against various non-collision incidents, it is recommended to add comprehensive coverage to your policy. It is important to review your policy documents and consult with your insurance company or agent to confirm if you have comprehensive coverage and what the specific terms and deductible amount are.
Will I need to pay a deductible for flood damage claims?
Yes, if your car insurance policy includes comprehensive coverage and you file a claim for flood damage, you will typically need to pay a deductible. The deductible is the amount you must pay out of pocket before the insurance company covers the remaining cost of the repairs or the fair market value of your vehicle if it is declared a total loss. The specific deductible amount will depend on your policy and can range from $250 to $1,000 or more.
Can I dispute the valuation of my vehicle after a total loss due to flooding?
Yes, if your vehicle is declared a total loss due to flood damage and you receive a settlement offer from your insurance company, you have the right to dispute the valuation. If you believe that the settlement offer does not adequately reflect the fair market value of your vehicle, you can protest the valuation and negotiate for a fairer settlement. This allows you to receive the initial settlement funds to purchase a replacement vehicle while continuing to work towards a more satisfactory resolution.
Frequently Asked Questions
Popular Rate Quotes
Compare Rates and Save
Find companies with the cheapest rates in your area