What Determines the Price of Car Insurance? 2023
Enter your Car Insurance Coverage FAQs zip code below to view companies that have cheap auto insurance rates.
UPDATED: Jul 8, 2023
It's all about you. We want to help you make the right coverage choices.
Advertiser Disclosure: We strive to help you make confident car insurance decisions. Comparison shopping should be easy. We are not affiliated with any one car insurance provider and cannot guarantee quotes from any single provider.
Our insurance industry partnerships don't influence our content. Our opinions are our own. To compare quotes from many different companies please enter your ZIP code on this page to use the free quote tool. The more quotes you compare, the more chances to save.
Editorial Guidelines: We are a free online resource for anyone interested in learning more about auto insurance. Our goal is to be an objective, third-party resource for everything auto insurance related. We update our site regularly, and all content is reviewed by auto insurance experts.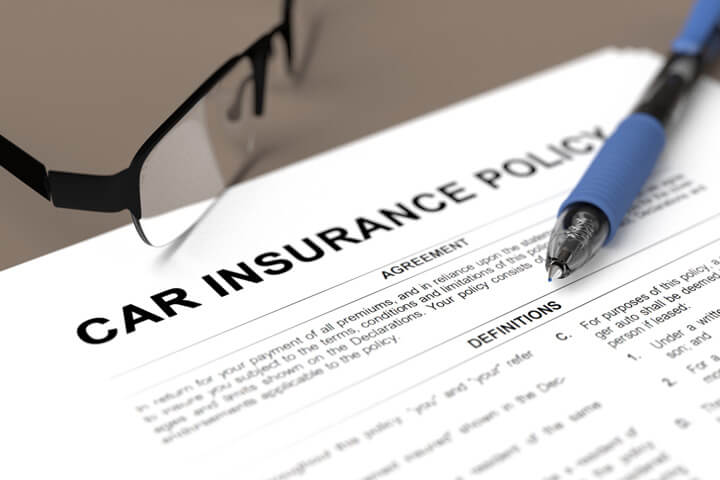 Have you ever wondered how car insurance companies decide how much to charge you for coverage? From one bill to the next, the price you pay for car insurance seems to randomly fluctuate with no real explanation or reason.
Let's take a look at some of the things companies use to determine the price of car insurance, and what you can do to help prevent unexpected sticker shock when your next bill comes due.
Factors that Impact Car Insurance Rates
The formulas companies use to calculate rates are quite complex, with literally dozens upon dozens of surcharges and credits for different risk factors. The following are some of the more common risk factors that are taken into consideration by most car insurance companies.
Years Licensed
The number of years you've been driving is a consideration regardless of your age. Even if you waited to get your license until you were 20, you'll pay a surcharge just as if you were a newly licensed 16-year-old.
Driving Record Points
This is a big one. If you like to drive fast and blow through red lights, chances are you have a few points on your driving record. And in this case, the person with the most points is not the winner. But the person with the most points will pay the highest car insurance rates!
Financial Responsibility
Some states allow companies to use financial responsibility as a rate factor. This is basically your credit score, and studies have shown that drivers with better credit are less likely to file car insurance claims.
Occupation and Education
Some companies use your occupation and/or education level as a small factor. Professionals and drivers who have completed college or graduate school are less likely to file claims so that factors into their rates.
Prior Carrier
The insurance company you had prior to switching to a new company can have a small impact on your rates. If you are moving from a company that traditionally insures high-risk drivers, your new company may see that as a red flag.
Full Coverage
If you are insuring your vehicles for full coverage rather than liability-only, you may earn a slight discount on the premium charged for liability coverage.
Policy Term
The longer your policy term the better in the eyes of your company. Some companies give discounts if you sign up for a 12-month policy term rather than shorter terms.

Free Auto Insurance Comparison
Enter your zip code below to view companies that have cheap auto insurance rates.
Secured with SHA-256 Encryption
Vehicle Garaging Location
If you live in an area with high amounts of vehicle theft or vandalism, you will most likely pay more for coverage. Conversely, areas with low claim frequency will have lower rates.
Vehicle Symbol
Every vehicle insured in America has a vehicle symbol associated with it. The symbol reflects the likelihood of that specific model having a claim, whether for liability or physical damage. Higher performance vehicles tend to have larger symbols, which results in more costly car insurance.
Physical Damage Deductibles
Low deductibles for collision and comprehensive coverage result in high car insurance rates. Drivers can lower the price of car insurance considerably by purchasing higher deductibles for physical damage coverage.
Vehicle Age
The age of your vehicle plays a part in determining your rates. Newer models are generally safer and have more advanced accident-prevention options, so a discount is given for new vehicles. You may not notice this discount, however, because insurance costs more for vehicles that have a higher actual cash value.
Length of Vehicle Ownership
If you've owned your vehicle for a number of years, you may see a little reduction because it demonstrates responsible ownership. Drivers who maintain and take care of their vehicles are more likely to be better drivers and file fewer claims.
Car Insurance Discounts
Once an insurance company takes all of the above risk factors into consideration and determines a rate, it's time to factor in some discounts.
Homeowner
If you own your home, that shows good financial responsibility on your part, so you earn a discount on your auto insurance premiums. If you insure your home with the same company, you may also earn an additional multi-policy discount.
Advance Quote
If you like to plan ahead, you can save even more by getting a quote well in advance of your policy renewal.
Safe Driver
If you have a clean driving record for the prior three years, this will earn you a discount. Each company is different as far as the time frame required to earn this discount. With this particular company, there is an added discount for being accident and violation-free for five years. Allstate does this discount in reverse. Instead of offering the discount upfront, they give it back in the form of a safe driver bonus check at the end of your policy term.
Paid in Full
If you like to pay your car insurance bill every month, you are probably paying more. Drivers who pay their entire policy premium in one payment can earn a significant discount.
Multi-policy
As mentioned in the Homeowner discount, if you insure both your home and cars with the same company, you may earn a multi-policy or "bundling" discount.
Multi-vehicle
If you have more than one vehicle insured on your policy, you can qualify for a small discount on all of them.
Continuous Insurance
As long as you do not have any lapses in coverage, meaning you didn't let your policy expire without having other coverage in place, you can earn this discount.
Paperless Billing
Save money by having bills and statements sent to your e-mail inbox rather than your mail box. This save the company money and in return they pass the savings on to you.
Distant Student Discount
If you have a college student who lives away from home and doesn't have regular access to a vehicle, you may be eligible for a distant student discount. Generally, the distance is over 100 miles, but it varies by company.
Good Student Discount
High school or college students who maintain good grades will qualify for a good student discount. It pays to do well in school.
Car Insurance Surcharges
In addition to the discounts shown above, there may be a couple of surcharges that will increase your policy price. Those are:
Business Use
If you use your vehicle regularly for business, you will pay a slightly higher rate. Some companies will not insure business-use vehicles, and instead make you purchase a commercial policy. But for those that will insure for business-use, this surcharge will apply.
Financial Responsibility Filing (SR-22 or FR-44)
If you are required to file a SR-22 or FR-44, this just means that your insurance company is required to file a form with your state's motor vehicle department that states you have coverage.
SR-22's are commonly required after a DUI or reckless driving conviction. FR-44's are primarily only used in Virginia and Florida, and they differ from SR-22's in that they require a higher minimum liability limit of $100,000.
Case Studies: Factors Influencing Car Insurance Rates
Case Study 1: The Influence of Occupation on Rates
John, a lawyer, and Sarah, a delivery driver, both have clean driving records and similar profiles. However, John receives lower insurance rates compared to Sarah. The insurance company explains that professionals like John are considered lower risk and may qualify for lower premiums.
Case Study 2: The Impact of Prior Carrier on Rates
Mark switches from a high-risk insurance company to a new provider. Despite having a clean driving record, Mark's rates are higher compared to his friend Sarah, who stayed with her previous low-risk insurer. The insurance company takes into account the prior carrier and its risk assessment when determining rates.
Case Study 3: The Role of Vehicle Age in Insurance Rates
John and Sarah both have similar driving records and profiles. However, John's older vehicle receives lower insurance rates compared to Sarah's brand-new car. The insurance company considers that newer models may have higher repair costs, resulting in higher rates for newer vehicles.
Lower the Price of Your Car Insurance
Frequently Asked Questions
What determines the price of car insurance?
Car insurance prices are determined by factors such as driving experience, driving record, credit score, occupation/education, prior carrier, coverage type, policy term, vehicle location, vehicle symbol, deductibles, vehicle age, length of ownership, and available discounts.
How does the number of years licensed affect rates?
Regardless of age, the number of years licensed influences rates. Even if you obtained your license at 20, you may still pay a surcharge similar to a newly licensed 16-year-old.
How does a driving record affect rates?
Having points on your driving record due to violations can significantly impact rates. More points result in higher car insurance prices.
Can credit score and education impact rates?
Some insurers consider credit score and education as minor factors. Better credit and higher education levels can potentially lead to lower rates.
How does the prior carrier influence rates?
Previous insurance carriers can have a small impact on rates. Switching from a high-risk insurer may affect the rates offered by a new company.
Does opting for full coverage affect rates?
Choosing full coverage instead of liability-only may qualify you for a slight discount on liability coverage.
Can the policy term affect rates?
Longer policy terms, such as 12 months, can sometimes lead to discounts compared to shorter terms.
How does vehicle location impact rates?
Living in an area with high theft or vandalism rates generally results in higher car insurance prices.
What is a vehicle symbol, and how does it affect rates?
Each vehicle has a symbol indicating the likelihood of claims. High-performance vehicles typically have larger symbols, resulting in higher insurance costs.
What are common car insurance discounts?
Common discounts include homeowner, advance quote, safe driver, paid-in-full, multi-policy, multi-vehicle, continuous insurance, paperless billing, distant student, and good student discounts.
Frequently Asked Questions
Popular Rate Quotes
Compare Rates and Save
Find companies with the cheapest rates in your area