Is cheap car insurance a myth?
Enter your zip code below to view companies that have cheap auto insurance rates.
UPDATED: Jul 8, 2023
It's all about you. We want to help you make the right coverage choices.
Advertiser Disclosure: We strive to help you make confident car insurance decisions. Comparison shopping should be easy. We are not affiliated with any one car insurance provider and cannot guarantee quotes from any single provider.
Our insurance industry partnerships don't influence our content. Our opinions are our own. To compare quotes from many different companies please enter your ZIP code on this page to use the free quote tool. The more quotes you compare, the more chances to save.
Editorial Guidelines: We are a free online resource for anyone interested in learning more about auto insurance. Our goal is to be an objective, third-party resource for everything auto insurance related. We update our site regularly, and all content is reviewed by auto insurance experts.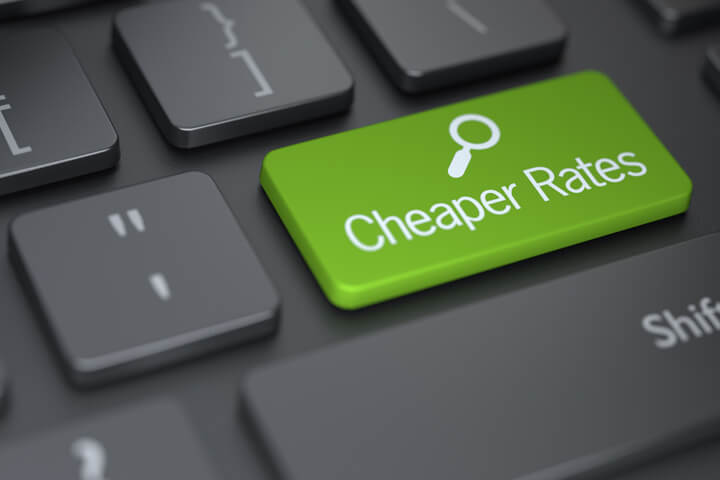 Cheap car insurance has to be the king of oxymorons. In the history of the modern world, I'd bet a small fortune that not one soul said "Boy, this sure is cheap!" while cutting the check for their auto insurance payment.
If you are like 99% of drivers, you don't enjoy paying for coverage that you may never use. It does provide peace of mind knowing that you do have protection in case you need it, but there always seems to be a voice in the back of your head telling you that you're overpaying.
It might be more logical to use the term CHEAPER rather than cheap. Car insurance prices are relative. They're relative to other drivers in your city, and also relative to other parts of the country.
In determining whether you can find lower-cost coverage, there are a number of things that may work in your favor, or they may work against you. Let's take a look at a few of these and you can see how your odds stack up for lowering your policy price.
Is Car Insurance Cheap in Your State?
The cost of car insurance varies considerably depending on where you live. On average, the cost to insure your average car (like a Honda Accord) is about $104 a month for full coverage and $500 deductibles. The table below shows the average rate for each state in the United States.
Average Car Insurance Cost by State

| State | Premium | Compared to U.S. Avg | Percent Difference |
| --- | --- | --- | --- |
| Alabama | $1,198 | -$50 | -4.0% |
| Alaska | $1,022 | -$226 | -18.1% |
| Arizona | $1,252 | $4 | 0.3% |
| Arkansas | $1,262 | $14 | 1.1% |
| California | $1,400 | $152 | 12.2% |
| Colorado | $1,294 | $46 | 3.7% |
| Connecticut | $1,634 | $386 | 30.9% |
| Delaware | $1,516 | $268 | 21.5% |
| Florida | $1,684 | $436 | 34.9% |
| Georgia | $1,236 | -$12 | -1.0% |
| Hawaii | $1,346 | $98 | 7.9% |
| Idaho | $868 | -$380 | -30.4% |
| Illinois | $926 | -$322 | -25.8% |
| Indiana | $888 | -$360 | -28.8% |
| Iowa | $938 | -$310 | -24.8% |
| Kansas | $1,144 | -$104 | -8.3% |
| Kentucky | $1,614 | $366 | 29.3% |
| Louisiana | $2,020 | $772 | 61.9% |
| Maine | $854 | -$394 | -31.6% |
| Maryland | $1,282 | $34 | 2.7% |
| Massachusetts | $1,098 | -$150 | -12.0% |
| Michigan | $2,292 | $1,044 | 83.7% |
| Minnesota | $1,094 | -$154 | -12.3% |
| Mississippi | $1,220 | -$28 | -2.2% |
| Missouri | $1,064 | -$184 | -14.7% |
| Montana | $1,130 | -$118 | -9.5% |
| Nebraska | $1,028 | -$220 | -17.6% |
| Nevada | $1,608 | $360 | 28.8% |
| New Hampshire | $1,018 | -$230 | -18.4% |
| New Jersey | $1,242 | -$6 | -0.5% |
| New Mexico | $1,156 | -$92 | -7.4% |
| New York | $1,620 | $372 | 29.8% |
| North Carolina | $886 | -$362 | -29.0% |
| North Dakota | $1,212 | -$36 | -2.9% |
| Ohio | $878 | -$370 | -29.6% |
| Oklahoma | $1,514 | $266 | 21.3% |
| Oregon | $1,166 | -$82 | -6.6% |
| Pennsylvania | $1,404 | $156 | 12.5% |
| Rhode Island | $1,512 | $264 | 21.2% |
| South Carolina | $1,162 | -$86 | -6.9% |
| South Dakota | $976 | -$272 | -21.8% |
| Tennessee | $1,122 | -$126 | -10.1% |
| Texas | $1,198 | -$50 | -4.0% |
| Utah | $1,104 | -$144 | -11.5% |
| Vermont | $886 | -$362 | -29.0% |
| Virginia | $896 | -$352 | -28.2% |
| Washington | $1,098 | -$150 | -12.0% |
| West Virginia | $1,270 | $22 | 1.8% |
| Wisconsin | $1,270 | $22 | 1.8% |
| Wyoming | $1,378 | $130 | 10.4% |
Free Auto Insurance Comparison
Enter your zip code below to view companies that have cheap auto insurance rates.
Secured with SHA-256 Encryption
States like Idaho, Maine, Ohio, Wisconsin, North Carolina, New Hampshire, and Vermont have some of the lowest auto insurance rates in the U.S. Higher-price states include Michigan, Louisiana, California, Florida, and New Jersey.
If you happen to live in a state where the average rate is under $104 a month, then your rates are probably pretty decent compared to the rest of the country. This equates to paying about $1,250 a year for car insurance.
It's important to understand that the rates shown use a lot of generalizations to come up with average prices. Every driver has different vehicles, drivers on the policy, and risk characteristics, so the rate you would actually pay could actually be quite different than those shown.
Higher risk drivers who have some at-fault accidents or speeding tickets will probably not qualify for "cheap" car insurance. Neither will teenage drivers or generally drivers under the age of 25. But if you're hitting that middle-age sweet spot for car insurance rates and have a clean driving record, you should qualify for some of the lowest rates available.
Tort vs No-Fault States and Car Insurance Prices
Every state has a different set of rules that insurance companies have to operate by. Each state has a different minimum liability limit that is required by state law, as well as different laws regarding how car insurance claims are paid.
Most states are considered "tort" states, which means after an accident, the driver who caused the accident is required to pay damages. Some states have the option where drivers can choose between full tort or limited tort when purchasing a policy. Limited tort puts restrictions when you can sue for pain and suffering, and generally results in cheaper car insurance rates.
States that are considered "no-fault" states for car insurance purposes, tend to have higher prices due to the requirement that the companies pay claims regardless of who was at fault. This does reduce the amount of claim litigation, but it forces companies to pay more claims (many are fraudulent) which gets passed on to you as a higher price.
States which have some form of no-fault auto insurance are:
Florida
Hawaii
Kansas
Kentucky
Massachusetts
Michigan
Minnesota
New Jersey
New York
North Dakota
Pennsylvania
Utah
Some states require no-fault coverage and a few make it optional, including Kentucky, New Jersey, and Pennsylvania.
If you live in one of these states, chances are that you are paying a little bit more due to the choices made by your state legislators.
Is Your Choice of Vehicle Costing you More?
When companies make statements like you can buy car insurance for $29 a month, or for less than $400 a year, those prices do not apply to all vehicles. Those rates only apply to specific models that have the lowest ISO rating symbols. ISO is the Insurance Services Office, which provides vehicle symbols based on the likelihood of liability, collision, and comprehensive losses for every model of vehicle.
Below are some examples of the comprehensive and collision ISO ratings for various vehicles. The first value is the ISO comprehensive rating, the second value is the ISO collision rating.
Chevrolet Silverado 1500 Regular Cab – 11 / 12
Honda Odyssey LX – 14 / 10
Honda CR-V EX – 16 / 8
Jeep Grand Cherokee Laredo – 17 / 12
Kia Soul – 19 / 18
Ford Escape S – 21 / 13
Toyota Highlander LE – 22 / 10
Hyundai Sonata SE – 23 / 33
Toyota Camry – 24 / 27
Toyota Prius – 25 / 26
Honda Accord EX – 33 / 28
Lexus IS 250 – 53 / 61
Porsche 911 – 58 / 62
Mercedes-Benz S550 – 72 / 66
If the vehicle you are insuring has higher ISO ratings, you will pay more for car insurance. If a vehicle model tends to be the target of thieves, its comprehensive rating will be higher. If a particular model is more likely to be involved in an accident, the collision rating will go up. And if a vehicle has high-priced repair parts, both the comprehensive and collision values will increase.
One way to find cheaper car insurance is to choose a model that has not only good ISO ratings, but also good safety ratings. These are both reflected in any price quotes you get, and if you are buying a new vehicle and wonder which is cheaper to insure, you can always compare price quotes using identical coverages for both models.
What are Your Driving Habits?
Believe it or not, one of the most common causes of high-priced car insurance is self-inflicted. We're talking about traffic tickets, violations, and at-fault accidents.
If you have a habit of speeding, running red lights, tailgating, using excessive speed, driving under the influence, or just being too aggressive in general behind the wheel, then the blame for high-priced car insurance gets put directly on your shoulders.
Occasionally, we all get caught daydreaming and exceed the speed limit. It's just human nature. But if it's a regular occurence and the points are racking up on your driving record, there isn't a lot you can do to find cheap car insurance.
But that doesn't mean you can't find cheaper coverage from a company that specializes in high-risk drivers. Most of the well-known companies want to insure low-risk drivers: age 30 to 50, good credit, clean driving records, and few prior claims.
If you do not fall into that category, then you will probably not be too happy with the rates they charge. Some companies specialize in insuring higher-risk drivers, which may include a few violations, an at-fault accident or two, or even DUI recipients and SR-22 filers.
Now that's not to say they won't charge you more than a low-risk driver. It just means they cater to drivers who do not fit into other company's preferred risk category, and you may find cheaper rates than you would get through other mainstream insurance companies.
Make Cheaper Car Insurance a Reality
You probably won't move to a different state just because they have lower car insurance rates. And you also probably will not sell your current vehicle just to buy one with lower ISO ratings. And more than likely you aren't going to change your driving habits just for us. So how can the average driver find cheaper car insurance?
When you think of car insurance, you probably thing of State Farm, Allstate, GEICO, and Progressive. Those are the four largest companies in the U.S. and they insure over half of all personal autos on the road. Other well-known companies include Liberty Mutual, Nationwide, Auto Owners, and Farmers Insurance.
The key is to think beyond the big companies, and also consider smaller companies that may only sell car insurance in one or two states. Oftentimes, these companies are mutual companies, which means they are owned by their policyholders. They don't spend a ton on advertising like their larger competitors, but many times they do have cheaper rates.
Small insurance companies that insure within a limited geographic area have the advantage of not having to underwrite losses from all over the country like large companies. With a nationwide company like State Farm or Allstate, huge hurricane or flood losses can result in rate increases in areas that were not even impacted by the storm.
There are literally hundreds of car insurance companies, and you can either do the work to find cheaper rates, or you can use a price comparison tool like this one. It allows you get price quotes from multiple companies while only having to enter your information one time.
Another option is to contact several independent insurance agents in your area. They work with multiple companies and usually have contracts with some of the smaller companies, which may have the cheapest rates.
If you are satisfied with your current car insurance company and do not want to switch, here are five steps you can take to save money with your current insurer.
Consider raising your deductibles on comprehensive and collision coverage
Eliminate coverages like towing or roadside assistance if you do not need them
Pay your policy in full rather than making installment payments
Work to improve your credit score as some companies use this to determine rates
If your vehicle is getting close to 8 years old, consider removing physical damage coverage altogether
It does take a little work to find cheap car insurance, but with persistence, perseverance, and a little patience, just about anyone can lower their monthly bill.
Case Studies: Lowering Your Auto Insurance Rates
Case Study 1: John's Safe Driving Discount
John, a responsible driver with a clean record, saved on his auto insurance by taking advantage of a safe driving discount. His commitment to following traffic laws and maintaining a good driving history helped him secure lower insurance premiums.
Case Study 2: Sarah's Vehicle Safety Features
Sarah discovered that equipping her vehicle with advanced safety features, such as collision avoidance systems and lane departure warnings, led to significant savings on her car insurance. The added safety measures not only provided peace of mind but also reduced her insurance costs.
Case Study 3: Mark's Multi-Policy Discount
Mark, who had both auto and homeowners insurance, benefited from a multi-policy discount. By bundling his insurance policies with the same provider, he received a discounted rate on both coverages, resulting in overall cost savings.
Frequently Asked Questions
Is cheap car insurance a myth?
Cheap car insurance is not a myth, but it depends on various factors such as location, driving history, age, and the type of vehicle you drive.
Is car insurance cheap in every state?
Car insurance costs vary by state. Some states have lower average rates, while others have higher prices.
Does the choice of vehicle affect car insurance rates?
Yes, the choice of vehicle can impact insurance rates. Vehicles with higher theft rates or expensive repair parts tend to have higher premiums.
Do driving habits impact car insurance prices?
Yes, driving habits like traffic violations and at-fault accidents can increase insurance rates. Being a high-risk driver may result in higher premiums.
How can I find cheaper car insurance?
To find cheaper car insurance, compare quotes from different companies, consider smaller insurers, maintain a clean driving record, improve your credit score, and explore available discounts.
What steps can I take to save money with my current car insurance company?
Increase deductibles, inquire about discounts, review coverage, improve credit score, and consider usage-based insurance to save money with your current insurer.
Frequently Asked Questions
Popular Rate Quotes
Compare Rates and Save
Find companies with the cheapest rates in your area