Which car insurance company is the cheapest?
Enter your zip code below to view companies that have cheap auto insurance rates.
UPDATED: Jul 10, 2023
It's all about you. We want to help you make the right coverage choices.
Advertiser Disclosure: We strive to help you make confident car insurance decisions. Comparison shopping should be easy. We are not affiliated with any one car insurance provider and cannot guarantee quotes from any single provider.
Our insurance industry partnerships don't influence our content. Our opinions are our own. To compare quotes from many different companies please enter your ZIP code on this page to use the free quote tool. The more quotes you compare, the more chances to save.
Editorial Guidelines: We are a free online resource for anyone interested in learning more about auto insurance. Our goal is to be an objective, third-party resource for everything auto insurance related. We update our site regularly, and all content is reviewed by auto insurance experts.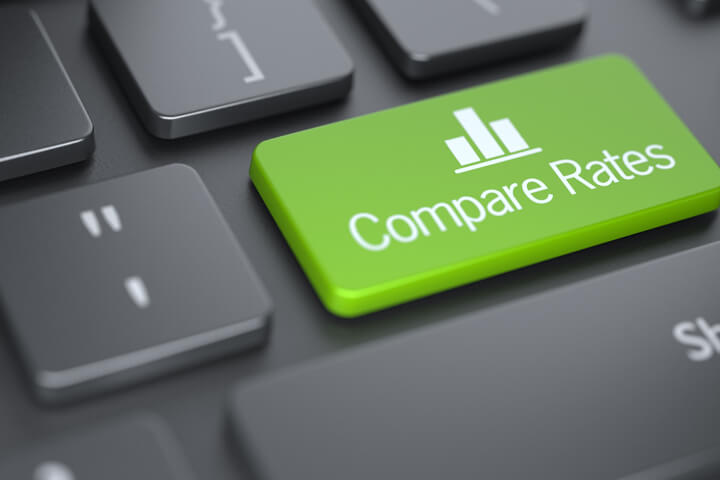 Everyone wants to know which car insurance is cheapest, so we are going to break down a lot of information and help you find the cheapest coverage for you.
First, let's talk a little bit about how car insurance companies set their prices.
In a nutshell, companies pay actuaries a lot of money to develop complex formulas so they don't lose money. They take all kinds of things into consideration like:
Your age and how long you've been driving
If you're married or own your home
How well you maintain your credit and your financial responsibility
If you have any tickets on your motor vehicle report
If you have any at-fault accidents show up on a CLUE report
The perfomance level and safety features of the vehicle you are insuring
The company you are currently with and if you have any coverage lapses
Plus a lot more…
All these factors contribute to determining how much you pay for insurance. Every company uses these factors in slightly different ways, and apply different "weights" to them. So company A might cut you a break for having one speeding ticket, but company B wants a squeaky clean driving record. That's why finding the cheapest car insurance company is not exactly easy.

Free Auto Insurance Comparison
Enter your zip code below to view companies that have cheap auto insurance rates.
Secured with SHA-256 Encryption
Cheapest Car Insurance Companies in the U.S.
Now that you have some idea of what determines car insurance rates, let's take a look at the top five cheapest car insurance companies in all 50 states.
As we mentioned at the start of this article, car insurance rates depend on a lot of different factors. So the companies shown in the charts above may not necessarily be the cheapest for you. You need to get quotes based on YOUR specific personal profile that includes all the factors we mentioned earlier, plus the level of coverage that you're comfortable with.
How to Compare Car Insurance Rates
Not everyone needs the same liability limits, and not everyone can afford to have full coverage or high physical damage deductibles. An individualized rate quote is the best way to compare the cheapest rates from companies, and be sure to use apples-to-apples information on every quote. If you use different coverage limits or deductibles on every quote, you will not have a level playing field on which to make a comparison.
Hopefully, the top five cheapest car insurance companies in your state above helps give you a good place to start in finding lower rates. Another great place to start is by using our multi-company quote system, which can match you with some of the most affordable companies in your area. To get started, simply click the button below!
Case Studies: Which car insurance company is the cheapest?
Case Study 1: The Safe Driver Discount
John, a 35-year-old with a clean driving record, recently moved to a suburban area from a bustling city. He has never been involved in an accident and has maintained a responsible driving history throughout his years of driving.
He decides to shop around for car insurance and obtains quotes from several insurance companies. Surprisingly, he finds that Company A offers significantly lower rates compared to other providers, thanks to their emphasis on rewarding safe drivers with substantial discounts.
Case Study 2: The Young Driver
Sarah, an 18-year-old high school graduate, just got her driver's license and is excited to start driving. However, her lack of driving experience and age are considered higher risk factors by insurance companies.
She begins her search for car insurance and discovers that Company B specializes in providing affordable coverage for young drivers. Despite her limited options due to her age and driving record, Sarah is able to find a policy that fits her budget with Company B.
Case Study 3: The Sports Car Owner
Mike, a 45-year-old car enthusiast, has always dreamt of owning a sleek sports car. After years of saving, he finally purchases his dream vehicle. However, he soon realizes that insuring a sports car can be quite expensive due to factors such as high repair costs and increased risk of theft.
Mike contacts different insurance companies to find the most affordable coverage for his sports car and discovers that Company C offers specialized policies tailored to sports car owners at competitive rates.
Case Study 4: The Homeowner Bundle
Emily, a 30-year-old homeowner, decides to explore options for bundling her car insurance with her existing home insurance policy. She understands that many insurance companies offer discounts to customers who bundle multiple policies, as it demonstrates loyalty and reduces administrative costs.
After obtaining quotes from various providers, Emily finds that Company D offers the most attractive rates for bundling both her car and home insurance, allowing her to save significantly on her premiums.
Case Study 5: The High-Risk Driver
David, a 50-year-old driver, has a less-than-perfect driving history with multiple speeding tickets and an at-fault accident on his record. He knows that finding affordable car insurance can be challenging due to his high-risk status.
David reaches out to different insurance companies and discovers that Company E specializes in providing coverage to high-risk drivers. While his rates may be higher than those with cleaner driving records, David finds that Company E offers him the most competitive options given his circumstances.
Frequently Asked Questions
Which car insurance company offers the cheapest rates?
The cost of car insurance can vary widely depending on numerous factors, including your location, driving record, age, vehicle type, coverage limits, and more. As a result, there is no one-size-fits-all answer to which car insurance company is the cheapest. The best way to find the most affordable rates for your specific situation is to compare quotes from multiple insurance companies.
How can I find the cheapest car insurance rates?
To find the cheapest car insurance rates, it's important to shop around and compare quotes from different insurance companies. You can contact insurance providers directly, use online comparison websites, or work with an independent insurance agent who can gather quotes from multiple companies on your behalf. Be sure to provide accurate information to receive accurate quotes.
Are there any car insurance companies known for offering competitive rates?
There are several car insurance companies that are often recognized for offering competitive rates, but the affordability of their coverage can still vary depending on individual factors. Some well-known companies with a reputation for competitive rates include Geico, Progressive, State Farm, USAA (available to military members and their families), and Allstate. However, it's important to remember that rates can vary based on your specific circumstances and the region you reside in.
Are cheaper insurance rates always the best option?
While finding affordable insurance rates is important, it's also crucial to consider factors beyond price. Cheaper rates may come with limitations in coverage, higher deductibles, or less comprehensive customer service. It's essential to review the coverage options, policy terms, customer reviews, and financial stability of the insurance company to ensure that you are getting the best overall value for your specific needs.
What other factors should I consider besides cost when choosing car insurance?
When selecting car insurance, cost is just one factor to consider. Other important factors include the insurance company's reputation for customer service, their claims handling process, the range of coverage options available, discounts offered, and the financial stability and strength of the company. It's advisable to read reviews, check customer satisfaction ratings, and assess the overall reputation and reliability of the insurance company before making a decision.
Can I negotiate car insurance rates to get a cheaper price?
While you may not be able to negotiate the rates directly, you can often take steps to lower your car insurance premiums. You can consider raising your deductibles, adjusting your coverage limits, asking about available discounts (such as safe driver discounts or bundling policies), maintaining a good driving record, and improving your credit score. It's always worth discussing these options with your insurance provider to explore potential ways to reduce your premiums.
How often should I review my car insurance rates to ensure I'm still getting the best price?
It's generally recommended to review your car insurance rates at least once a year or whenever significant changes occur in your life, such as moving to a new location, buying a new vehicle, or experiencing changes in your driving habits. Regularly reviewing your rates allows you to compare options and ensure that you are still receiving competitive pricing and adequate coverage.
Frequently Asked Questions
Popular Rate Quotes
Compare Rates and Save
Find companies with the cheapest rates in your area